As we get older, accidents and falls at home are more likely to happen. Declining vision, poor hearing and decreased bone density can lead to several mishaps. Prevent serious injury to you or a loved one by making these changes to your property.
According to the Government of Canada website, falls are the leading cause of injuries among Canadians over the age of 65*, and approximately half of all falls (leading to hospitalization) occur at home. Older adults are also more vulnerable to criminal activity, especially if they live alone. 
By making a few adjustments, you can make your property safer and more comfortable (for yourself or a senior family member), so you can continue to live independently. Here are some of the possible changes you can make according to each area of the house: 
Bathroom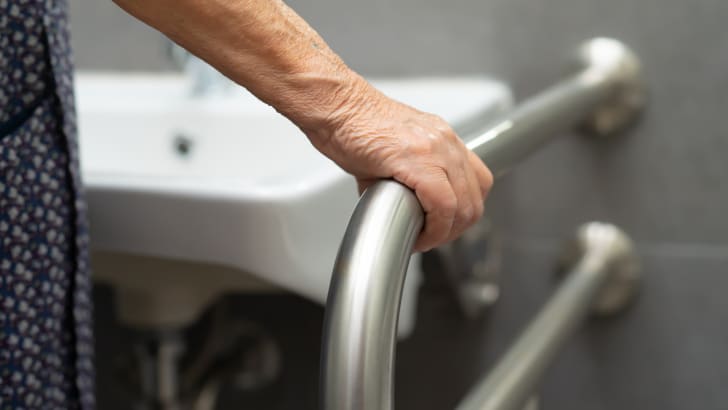 The bathroom is one of the most hazardous spaces in the home because surfaces are often wet and slippery. Protect yourself with these tips: 
If necessary, replace faucets and door handles with ones that are easier to use.  

Install grab bars next to the toilet and in the bath and shower. Make sure they are firmly attached to the wall. 

Consider including a bath seat in your shower if you (or a loved one) have difficulty showering while standing up.  

Place non-slip strips on any surface that may get wet. Ensure that bath mats have rubberized backing or are secured to the floor.  

Invest in a night light that turns on automatically in the dark. 

Avoid using cleaning products that will make surfaces even more slippery.
Bedroom
While this might be the safest place in the house, you may need to get up in the middle of the night. Here's how to prevent accidents: 
Make sure you can easily access a light switch from your bed. Also include night lights for if you need to get up at any stage. 

Keep a flashlight next to you in case of a sudden power failure.  

Always ensure you have a charged phone near you for emergencies. 

The path from your bed to the bathroom must be clear of obstacles at all times.  

Have a second list of emergency numbers in or on your bedside table.  

If necessary, install short rails on your bed to prevent falls or if you have difficulty getting in or out of it.
Kitchen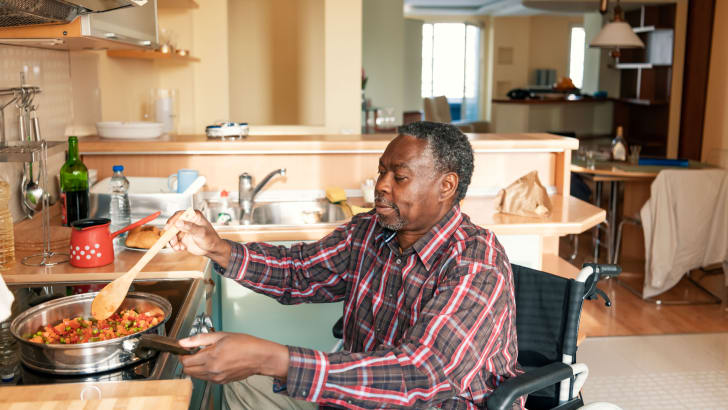 Like the bathroom, the kitchen is another potentially hazardous space. Slips, falls, burns and poisoning are all possible if you don't take extra care. 
Prepare food while seated in case you feel tired or lose your balance.  

Put your preferred cooking appliances in drawers and cupboards that you can access without difficulty. Do the same for pots, pans and utensils.  

Store heavier items on lower shelves (and lighter ones in higher cupboards).  

If spills happen, clean them up immediately to avoid slips and falls.  

Keep a first aid kit and a list of emergency numbers within easy reach. Consider saving a few under "favourites" on your mobile phone. 

Place a small stepladder (with a handrail) in the kitchen for reaching high areas. A reaching tool is also handy for grabbing things and can be purchased at hardware stores.   

Ensure your oven gloves are heat resistant. Store them in an accessible drawer for when you're cooking.  

Check that your fire extinguisher is in good working order and mount it on the wall (away from the stove). 

Clearly label all products containing dangerous chemicals and store them safely in a marked cabinet.
EspaceProprio Tip Do you have a smoke detector on every floor of your home? Make sure each one is working and check it every six months. Do the same with a carbon monoxide detector.
Outside
Your property must be safe to enter and exit as you go about your business. Deter criminals and avoid injury with these updates:  
If your home requires wheelchair access, install a ramp with handrails to the front and back doors. 

Check that steps are not cracked, broken or uneven. Add a non-slip or textured strip to each surface as well as sturdy rails.  

Remember to salt your stairs and walkways thoroughly in winter.   

Invest in a motion sensor night light or remember to switch on your porch light if you'll be returning home when it's dark. All pathways should be well lit. 

Remove any potential trip hazards from the yard and driveway, such as roots, fallen branches or cracks.
General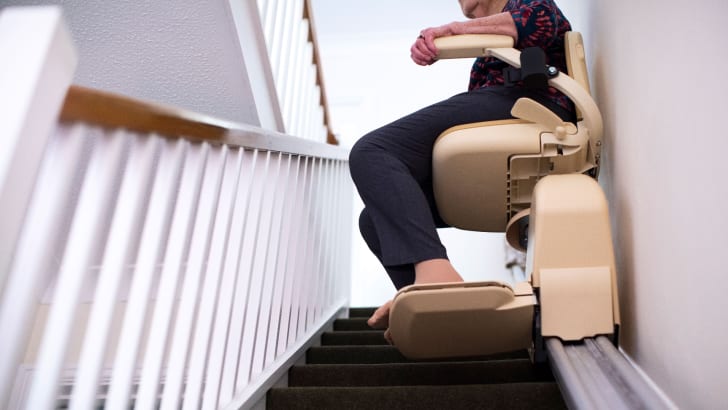 All general or high traffic areas (such as passages and stairs) should be kept clear, illuminated and tidy at all times. 
Avoid having area rugs in your home as these are a potential trip hazard. All carpets should be firmly secured to the floor.  

In each room of the house, provide accessible seating. For example, a bench near the front door is helpful when you need to put on or take off your shoes. 

Install handrails on both sides of the stairs and use them every time you go up or down. Always have a clear view of where you're walking and don't rush. 

Place light switches at the top and bottom of the stairs. Include a night light on each stair to brighten the area when it's dark. 

A stairlift is also a great way to ensure you never slip or fall while travelling up or down the stairs, especially if you're carrying something. 

Don't leave shoes lying around and know where your pets are so they can't trip you.  

Always keep electrical cords tidy and hidden from walkways.  

Ensure that all rooms in your home are well lit and free from clutter.
Are your elderly parents moving in with you? Do you require wheelchair access? RenoAssistance can put you in touch with up to three Verified Contractors with the skills to adapt your home to ensure you feel safe.