You may want to renovate your kitchen for several reasons: a need for change, an objective to increase your home's value or a desire to benefit from the latest innovations by trying new products and materials. Why not take advantage of this opportunity to make wise, eco-friendly choices? Let's do it with our recommendations for renovating in green mode!
1. Choose specific spaces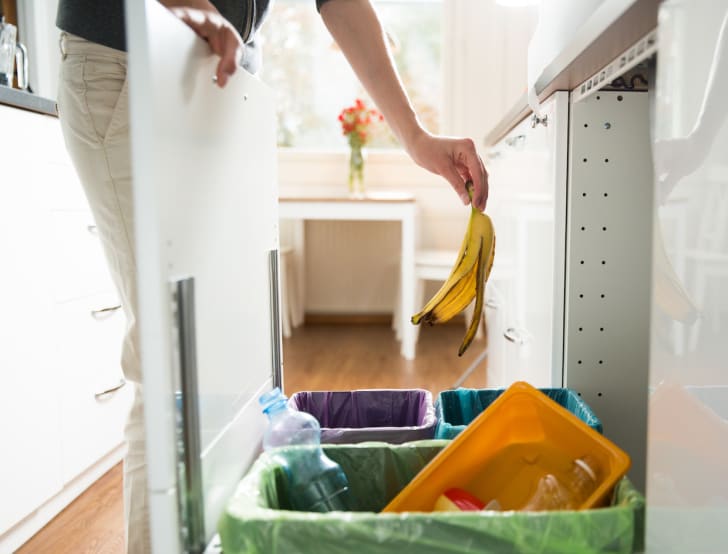 Before you begin the work, you need to think about specific areas. Planning ahead when renovating will make life easier later on. Once the kitchen is finished, you can integrate new responsible consumption habits into your daily life. Consider the following: 
Where will you place your compost bin? Think about a location that gets little sunlight and is not in your way. 
Sorting space A bin system allows waste to be collected separately. You can sort the different types into individual bins:
Residual household waste 

Recyclable packaging 

Glass 

Bulky items—e.g., furniture and refrigerators 

Green waste 

Waste Electrical and Electronic Equipment (WEEE) 

Hazardous or non-hazardous waste from household (cleaning products), do-it-yourself, or gardening activities.
Pantry space This may seem obvious, but having an open pantry helps control food consumption and avoid waste. Place older products in plain view and prioritize them. 
Bulk space Favouring products that are not pre-packaged is ideal. Have you considered setting up a bulk station in your kitchen or pantry? Buy only the quantities you need to save money and avoid food waste.
2. Select sustainable materials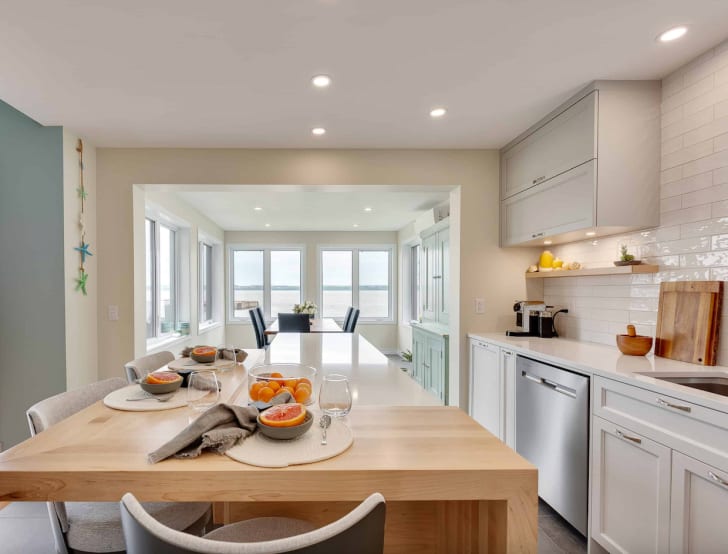 It's best to give your cabinets, kitchen furniture, and countertops some love without replacing them altogether. In the case of extensive renovations, give preference to local artisans by choosing these materials:
Synthetic gypsum 

Sustainable floors 

Recycled glass 

Wood 

Concrete 

Quartz 

Natural stones
Many companies, such as Habitat for Humanity's ReStore, offer to donate, buy or sell used materials, which is an attractive option. Note that recycled building materials must be free of urea formaldehyde because it is harmful to your health. For example, choose from local varieties of wood panels. If you opt for new, prioritize regional suppliers who produce no or low VOCs (volatile organic compounds).
3. Choose the right appliances
Sometimes renovating means shopping. When looking for new appliances, check the ecolabels and symbols. Choose your oven, cooktop, dishwasher, or any other appliance according to its energy consumption. Look for the ENERGY STAR © label. Buy a refrigerator without a water or ice dispenser and a range hood that vents outside the house.
4. Dispose of garbage correctly
Once the work is done, you'll surely want to do a major clean and then enjoy your new space. After the renovations, drop off the residual materials at an eco-centre (wood, concrete, asphalt, brick, and stone). Use this opportunity to discard items that no longer work and donate the rest. Reusing is a simple but significant gesture. 
EspaceProprio Tip Recycle each material responsibly. Consult the Recyc-Quebec website to find fact sheets for each category of waste.
5. For home decor—shop thrift and local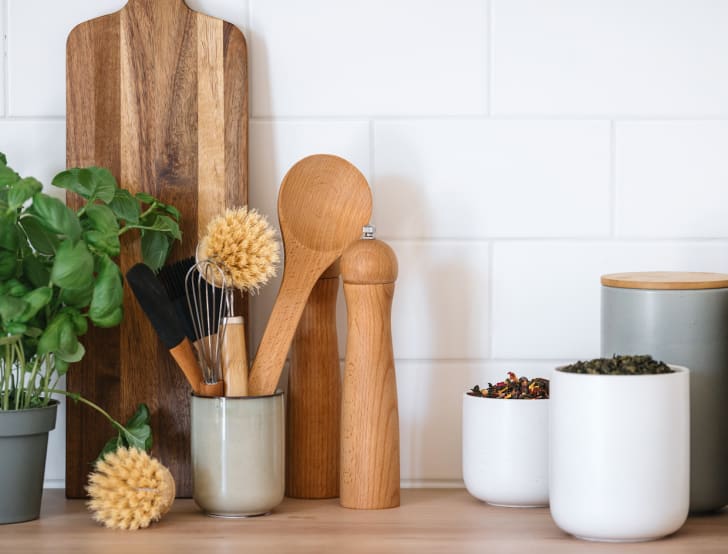 Part of the revitalization of a room is adding the finishing touches, and this can be a lot of fun. Shop differently by choosing accessories, furniture, or decorative objects from thrift stores. You are giving them a second life. Or buy local brands and contribute to the local economy. Finally, choose eco-friendly kitchen utensils: wood, natural cast iron, recycled stainless steel, ceramic, Pyrex glass, or terra-cotta.
Draw on our videos and podcasts for other inspiring ideas and tips.