Organizing your pantry allows you to find and keep track of your groceries easily. It also makes meal and snack times a cinch when you have kids. Here are 7 pantry organization ideas to streamline your space so it's always neat and family friendly.
1. Start with a blank canvas  
Unpack your pantry completely, taking everything off the shelves and cleaning each surface. Then, take a good look at what you've got and throw out all expired food. Are there products you no longer use or want? If they're still edible, donate them to a local charity or food bank.
2. Invest in baskets, bins, and clear food canisters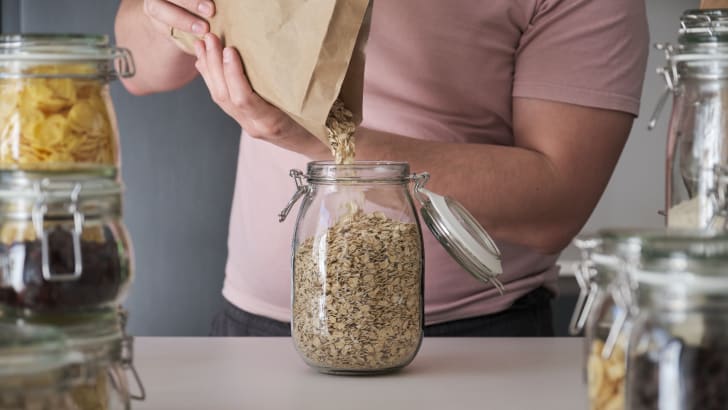 Transfer dry ingredients (such as grains, flour, pasta, sugar, etc.) to clear, airtight containers. At a glance, you can see how much is left of any product, plus your shelves stay organized because of the canisters' uniform shape. This makes them stackable, saving even more space on your shelves. 
Baskets are a great way to store chip packets and other snacks that can be damaged or have an odd shape. Plus, they make your pantry look neat and tidy with minimal effort, and nothing gets lost or forgotten at the back of a shelf.  
EspaceProprio Tip Original food packaging is busy, making your pantry look cluttered even if it's orderly and well maintained. Remove and recycle all cardboard boxes and plastic bags to keep your pantry and kitchen organized.
3. Create a system that works for you 
Think of your family's lifestyle and food habits and use this as inspiration to arrange your kitchen pantry. Creating zones or food categories will help you keep everything in designated spots that are easy to find. For example, you can allocate a specific shelf or basket to baking supplies, weeknight dinners, school lunches and after-school snacks.  
Remember: there's no right or wrong way to do it. The goal is to create a structure that makes sense for you and your family. Zones will also help you to keep track of what you have and what must be restocked. You don't want to wake up on a Monday morning with 10 cans of tuna but no coffee.
4. Use labels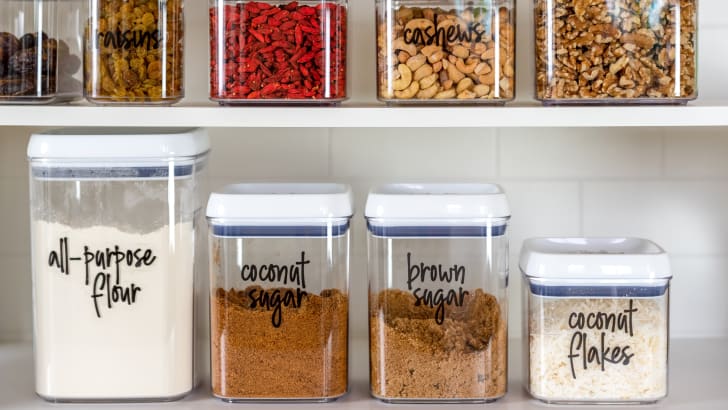 Label your containers, baskets and food categories to keep the sections organized, especially if you've taken anything out of its original packaging. It also helps the entire family keep items in their designated places. On each label, state the item and its expiration date so you're not keeping old food. If possible, stick to removable labels so it's simple to change when you refill the canister next time.
5. Put your most popular items within reach  
Store the groceries you need most often on shelves that are easy to reach and in open bins, such as school lunch items, dinner ingredients, breakfast cereals or snacks. This simple tweak will make mealtimes quicker and more efficient. Do the same with kid dishes and cups so little ones can grab these without your help.  
Reserve the top shelves for messy items or things you rarely use but be sure to label them well, so you remember what's up there. The same goes for products that are breakable or dangerous if they fall into the wrong hands. For example, do your children have food allergies? Make sure everything is clearly labelled and that anyone with access to your pantry (including older kids, grandparents or babysitters) is aware of your system.
6. Keep healthy snacks where kids can get to them  
Another great pantry hack is to keep healthy after-school snacks where your children can reach them safely, whether it's in baskets on lower shelves or in a hanging organizer on the back of the door. If your kids can grab these items easily, they'll be less tempted to go rifling through the rest of the pantry. Move less healthy snacks and treats that require adult supervision to higher shelves, possibly in solid containers with child-proof lids.  
EspaceProprio Tip A hanging organizer on the back of your pantry door frees up even more space on shelves. Use it to store snacks, cans, jars and spices. A Lazy Susan is a great way to make the most of awkward corners and storing oils, dressings, herbs, spices, and other condiments.
7. Do a regular touch-up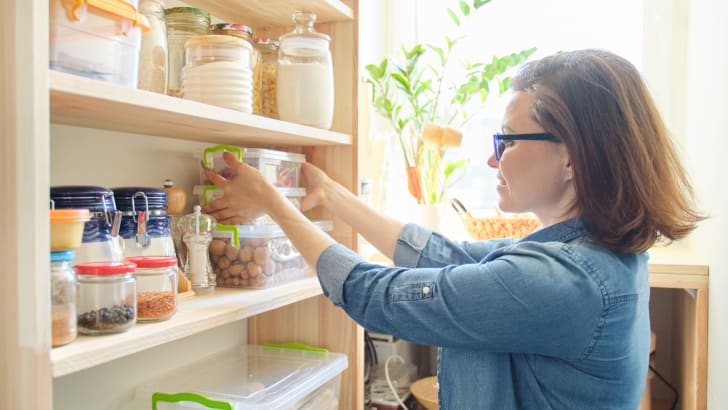 Every time you do a major grocery shop, go through your staples and make sure everything is still in its place. Check expiry dates and wipe your pantry shelves as you go. This way, you avoid a major clean-up that needs to be worked into your busy schedule, and you won't buy duplicates the next time you hit the supermarket.
Join our Instagram community @espaceproprio for more informative and entertaining content.