Is your basement nothing more than a storage room right now? With a few adjustments, you could turn this extra space into a warm and welcoming family hangout. It's easier than you think—check out our tips below!
Unless you're using it as an extra room, your basement is a missed opportunity. Expand your living space and give your children a designated area to play, read, do homework, or relax with you. Transforming a basement into a family room certainly requires a few changes, but it's not as difficult as you might believe.  
Does your basement need to be finished to use it as a family room?  
The short answer is no. Even if your basement is unfinished, you can still turn it into a fun and functional space. However, we recommend taking care of waterproofing and insulation at the very least. This simply ensures your furniture is protected from water damage and the area is warm enough to use throughout the year.  
If you have the budget, framing and hanging drywall can help conceal utility appliances, but there are also affordable ways to tackle this issue (discussed below). In the end, a basement family room gives your children an extra space in which to be themselves and make a mess, away from the eyes of visitors.
6 tips for converting your basement into a family room
1. Divide the area into zones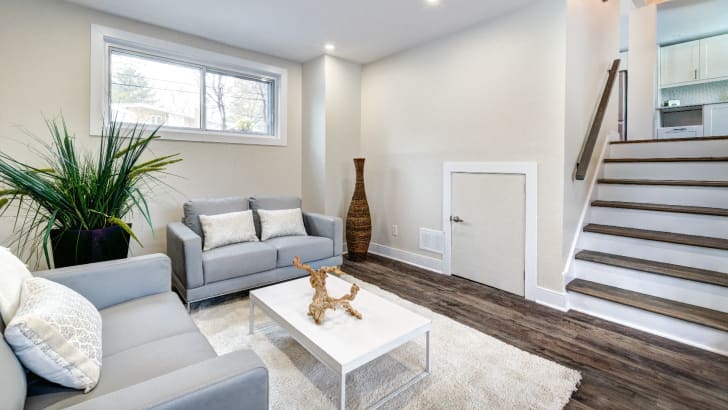 With your children's ages and interests in mind, create dedicated spaces in the family room to keep them busy after school or during winter months. For example, a quiet zone could be used for reading, doing puzzles, or completing homework. An art zone would work well for crafts, colouring, or playing instruments. A play zone is the perfect spot for toys, clearing the main living area of your home (mostly) of clutter (and noise). 
Of course, your family room shouldn't just be for the kids, and you certainly don't want it to resemble a classroom. So, make sure you create a space that meets the needs of the whole family. Include comfy couches and an entertainment area where adults and children alike will enjoy gathering after dinner or for movie nights. Perhaps you'd like a small gym where you can sweat it out while keeping little ones in your line of sight, or a bar that fits easily next to a play kitchen. Adult zones can coexist and be separate from child spaces with a few clever tweaks, depending on your lifestyle and preferences.
2. Add lighting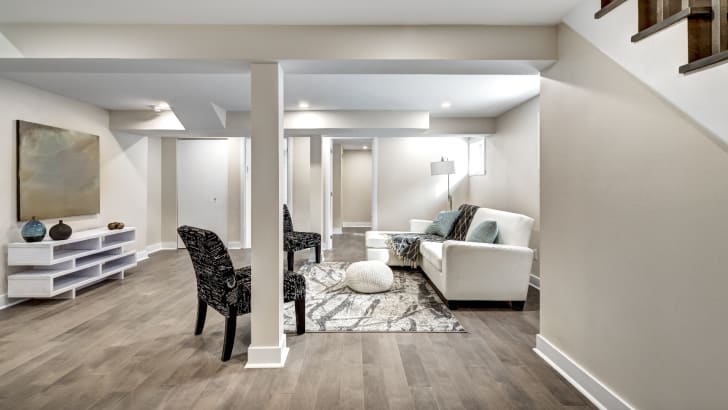 The basement usually features one or two egress windows for emergency exits, but it's still much darker than the rest of the house. As such, it's important to maximize any natural light coming in and add additional lighting so the space always feels inviting. Ample ambient lighting is a must, but you might need a few floor lamps and table lamps as well, depending on how you plan to use the area.  
If your basement is unfinished, light fixtures can be attached to exposed floor joists from the upper level. And don't forget the impact that string lights can have. Adding these in your basement will immediately elevate the space and make it feel cozy and fun.
3. Think about flooring
Basements are prone to moisture and flooding, and accidental spills from kids are also possible in a family room and playroom. To prevent an expensive repair job, you'll want a floor that is durable and easy to clean. If vinyl planks are beyond your budget, don't fret. Basement floors are hard and cold, but there are several ways to increase the coziness (and safety) factor.  
Opt for a few large washable rugs as they are easier to clean than carpet and they make a space feel warm and inviting. Interlocking foam mat floor tiles are also a great option, giving children somewhere soft to land during playtime. They come in a variety of colours and thicknesses, so you can choose a theme that suits your style and the different zones in your family room (e.g., bright colours for a play zone vs. neutrals for a learning zone).
4. Soften (and separate) with drapery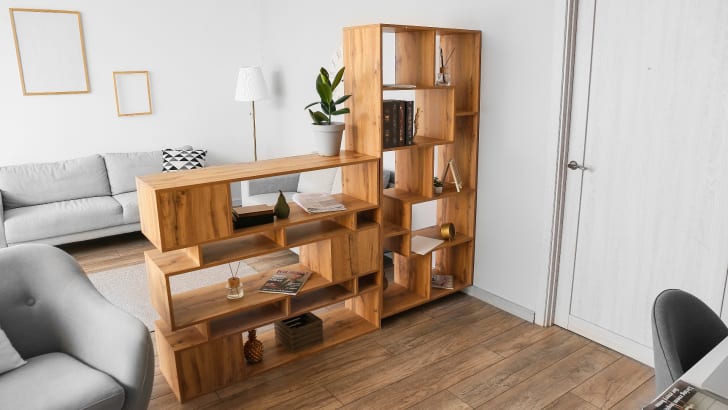 A basement is typically one large room, so another way to split or define zones is with drapery. Curtains and folding screens hide and soften the harshness of cold concrete, exposed framing, insulation, and utility appliances if the space is unfinished. Hanging curtains is also much easier in this case because the joists from the upper floor are usually visible, giving you plenty of places to attach them.  
Curtains, screens and even bookshelves can act as visual barriers between child and adult zones. If your kids are very young, it's difficult to avoid brightly coloured play sets, pictures, and furniture. So, screens are a great way to hide any visual clutter if (and when) you need to.
5. Furnish and decorate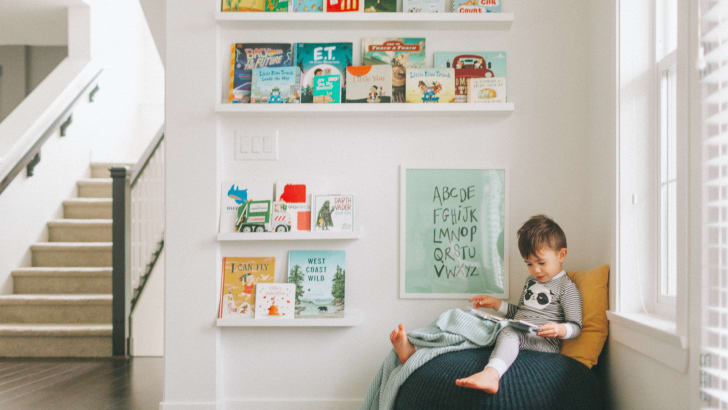 Fill each zone with appropriate furnishings and décor. For example, a reading corner might be littered with comfy cushions or pillows, while chairs and a small table are better for art and craft projects or eating snacks. Blankets and throws will make the space feel warm and inviting all year long, and if your children are older, consider counters or desks for completing homework.  
Think about your colour scheme. Ideally, the child zones should blend seamlessly with adult and family zones, but this isn't always possible. If you can, stick with lighter colours as this will make the space feel open and airy, rather than dark and foreboding. Neutral walls with bright decals or removable wallpaper are great options, as you can update these as your children grow. However, if you don't mind the prospect of redecorating in a few years, have fun with bright pops of colour as this stimulates both mood and creativity.
6. Maximize storage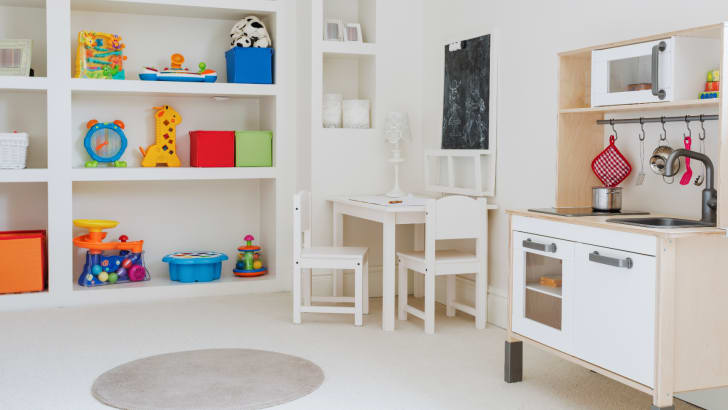 Storage is a valuable commodity in any home. Keep your family room neat and organized by ensuring there are shelves, bins, baskets, or cabinetry for storing toys and other items. With easy access to storage, your kids can also learn to pack away their things when they're done for the day. Opt for wicker baskets and white storage bins if you'd prefer to stick with a more adult aesthetic, otherwise include a few pops of colour for a fun and playful effect.
You love our ideas but need a little help to make them happen? Visit the Useful tips section of our site.