Can a small bathroom be functional and modern? It sure can, but it takes careful planning. Since the bathroom is one of the most used rooms in the house, it needs to be well designed. Follow these effective tips to make your life easier and transform the look of your bathroom without remodelling.
Make the most of your small bathroom in a snap 
Do you want to make your small bathroom practical and welcoming, despite a lack of space? Here are some ideas to help you open the space without renovating. Feel free to use them as inspiration for your next project!  
Maximize storage 
Your small bathroom not only needs storage but also enough space to move around in comfortably. Not sure how to achieve this delicate balance? Here are some of our storage solutions. 
Pick a mirror with built-in storage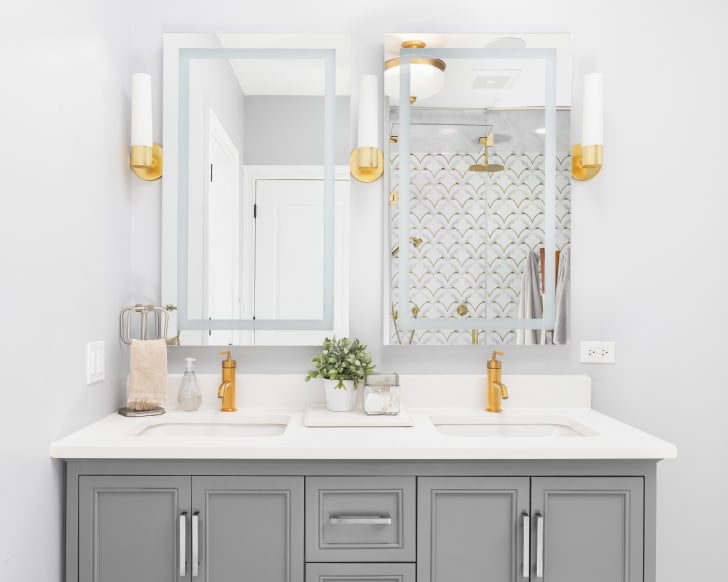 Since every square centimetre counts in a compact space, pick a mirror with built-in lights and shelves. Bonus if you can find one that slides or swivels.  
Declutter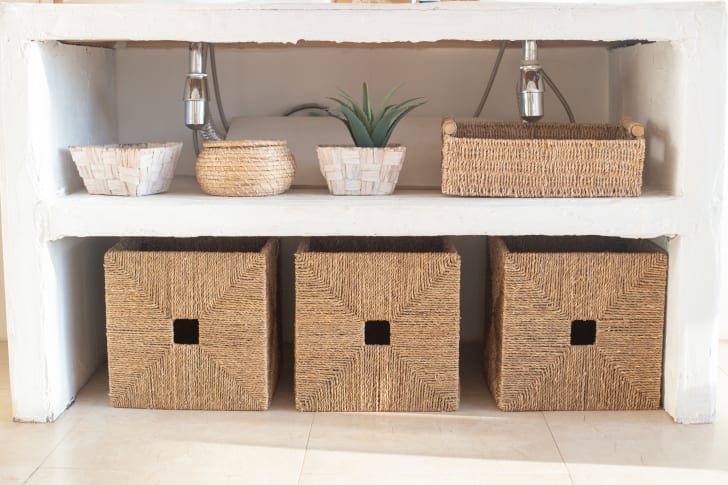 Get rid of anything in your bathroom you're not using regularly. Sell, donate, or give away items that don't serve you anymore. This is the best way to gain space! Organize your shelves with baskets and create a dedicated place for your personal essentials. 
Hang up hooks and wall organizers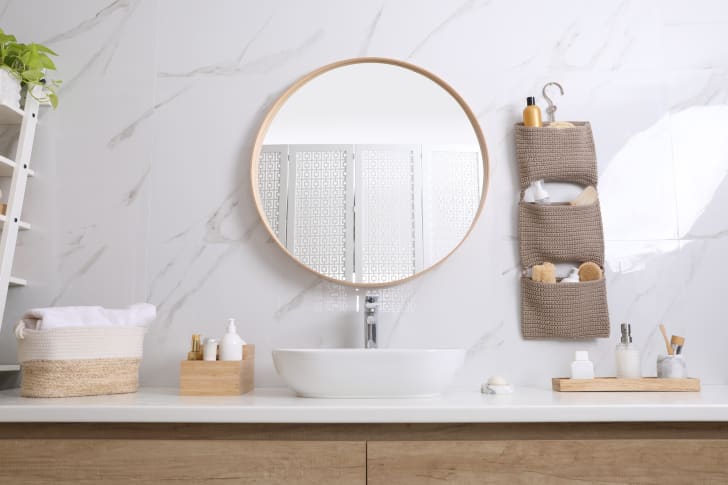 Hang up hooks and wall organizers on the back of the door or on the walls. They're a great place to store toiletries and washcloths. Plus, you'll be less likely to leave things lying around.   
You can also use hooks with suction cups. They hold well on mirrors, so you don't have to worry about them taking up too much room. You can use them to hang towels or brushes. 
Make use of pretty trays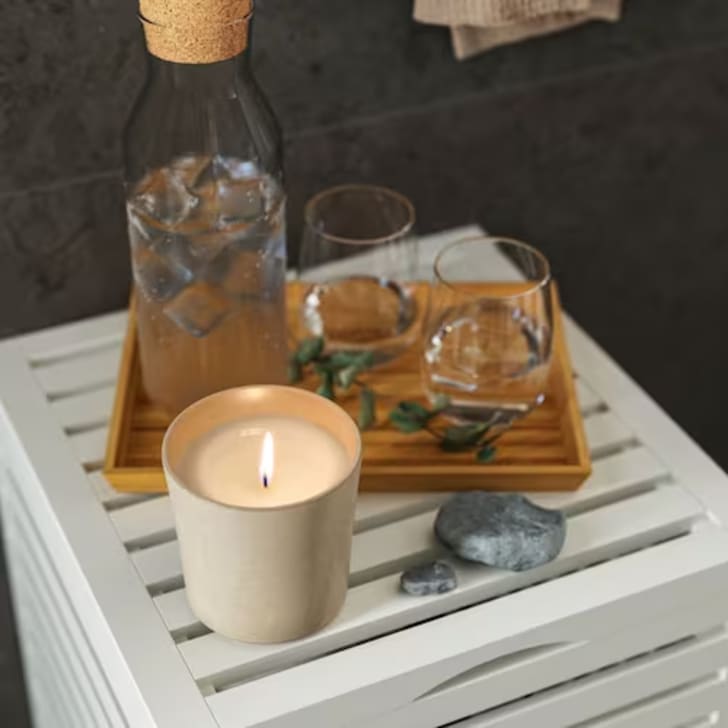 You can use pretty trays as both storage and to add a nice visual touch. Not using your old spice rack? Put it in the bathroom to store your beauty products.  
Or you can buy a rotating makeup organizer for quick and easy access to all your essentials. 
Eliminate any unused space 
An empty or unused space refers to an area that isn't being used efficiently. To make your bathroom as functional as possible, we recommend using all the space you have. Use any empty space for additional storage, so you have room for everything you need in a small area.  
Get corner shelves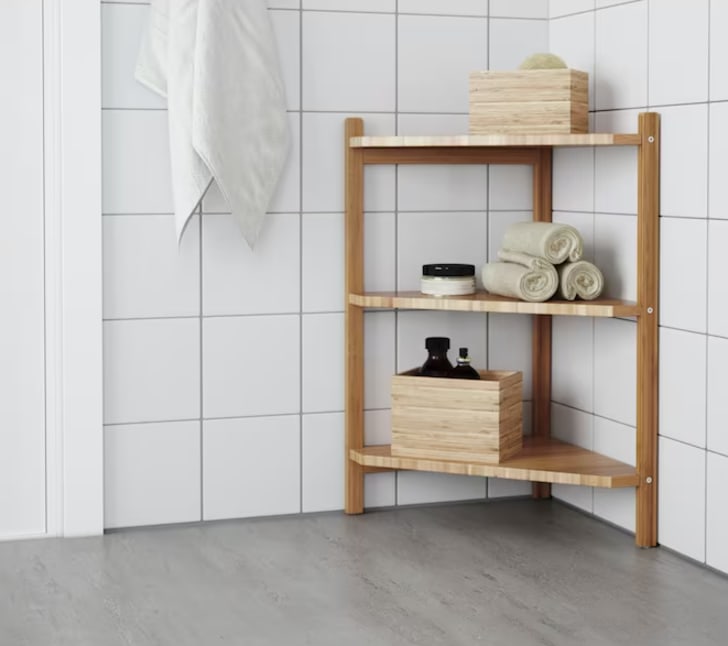 Whether you prefer triangle or quarter-round shelves, these storage units are excellent for small rooms. They're a great choice because they provide extra storage for your stuff. They also work well in a shower!  
Wall- and ceiling-mounted shelves are also very practical. A good hack to make a room look bigger is to install shelves that run the length of the wall. 
Install sliding doors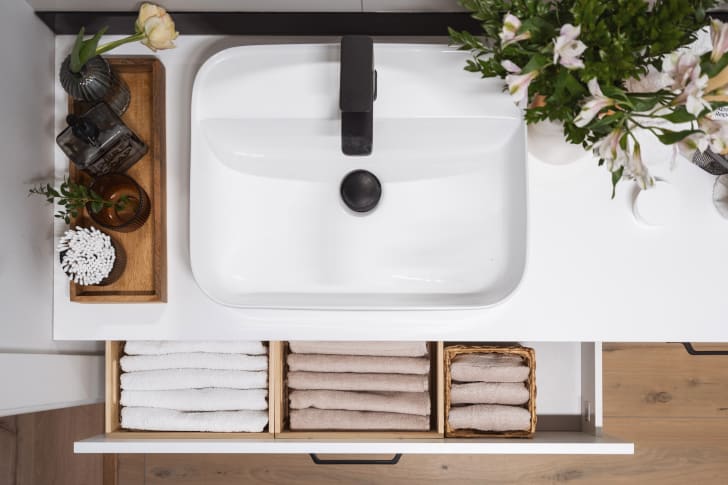 Your mission: Don't use up what little space you have! Traditional doors can be awkward in tight spaces. Instead, consider using sliding or folding doors. For the shower, you can skip the door altogether and just have a glass panel installed for a more contemporary feel.  
Drawers are also an excellent storage solution. They're a great addition under the sink. 
Don't forget about recessed options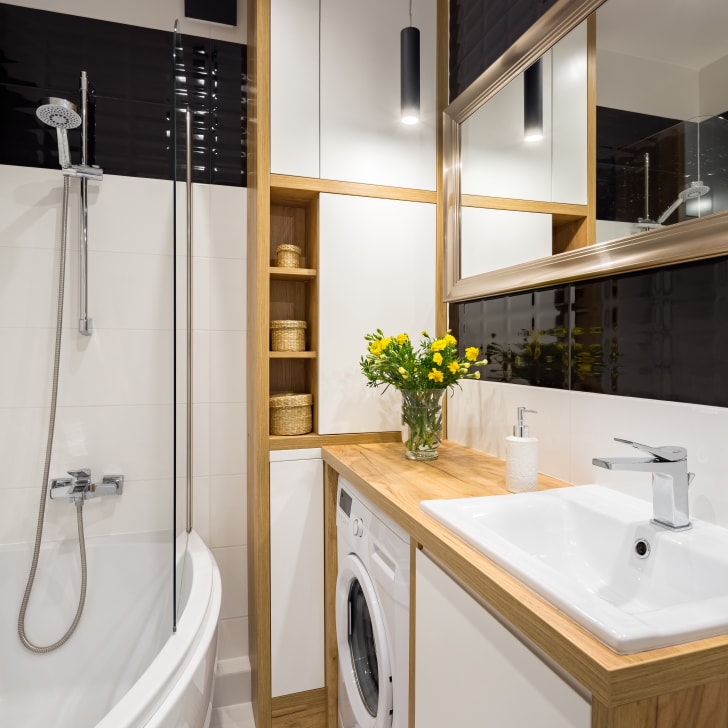 What about recessed lighting, medicine cabinets, and shower heads? All great ideas! Like the sink, the bathtub, and storage solutions, anything recessed gives you more room to move about. What's more, you'll have a well-lit bathroom. 
Adding anything recessed may involve more work and a design plan, in which case you'll have to consider any potential problems you may run into. A bathroom renovation is a big project, but one that's worth it! 
Select the right accessories 
Choose accessories that stand out while staying focused on maximizing the space available. The right items will help brighten your daily routine.  
Use wall-mounted towel rails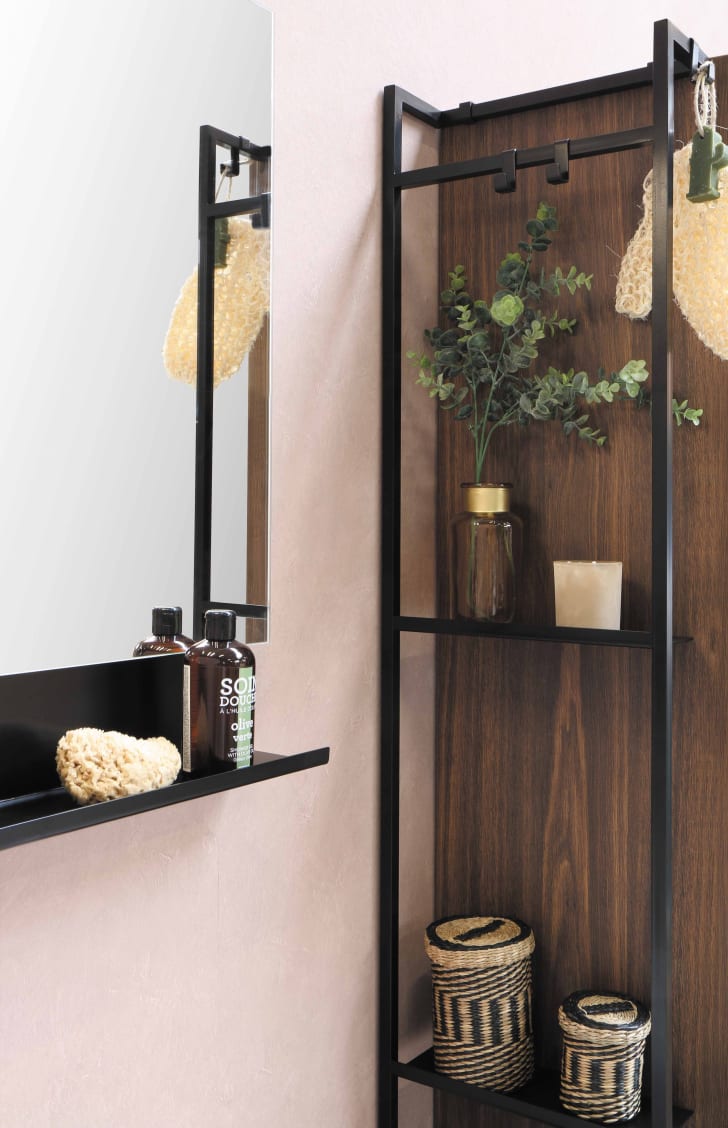 To save floor space, get a wall-mounted towel rail. Hang it on the back of the door or near the sink. You can pick a towel rack with multiple rails to hang more than one towel. Towel ladders also add visual interest. If your space is too narrow, hooks are your best option.  
Take advantage of vertical space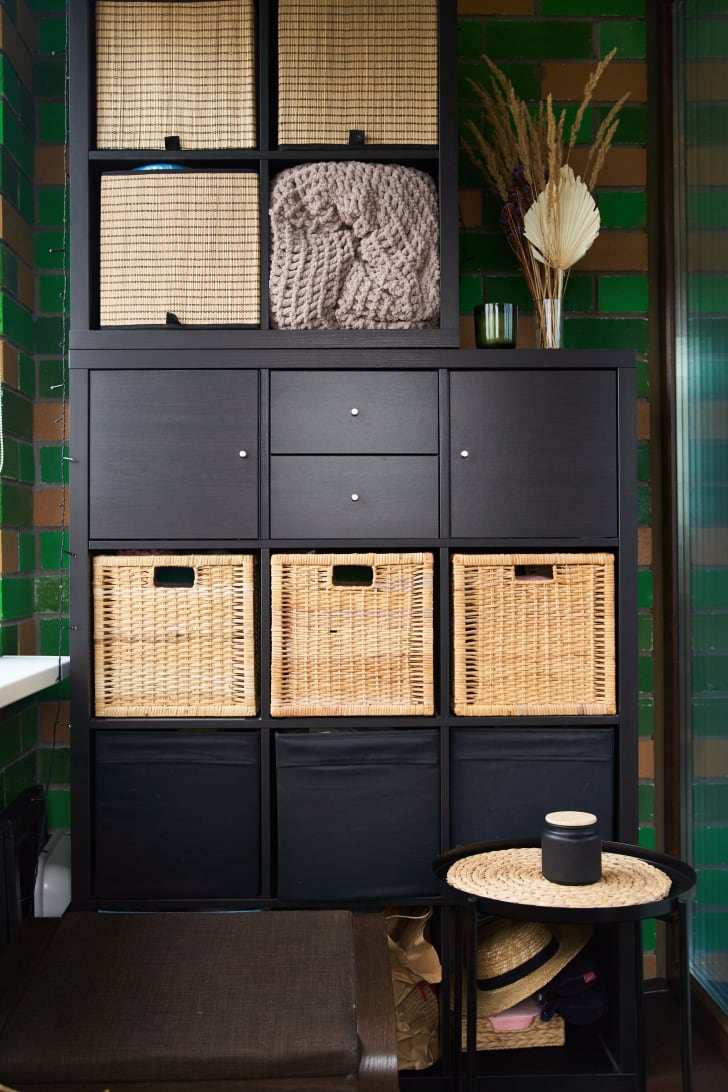 Another way to accessorize doors and the area above the toilet is to hang baskets or storage bins. Use them to store toilet paper rolls. 
Hanging accessories is a good way to decorate without taking up too much room. You can also place the soap dispenser and toothbrush holder on the wall by the sink.  
Hide what you can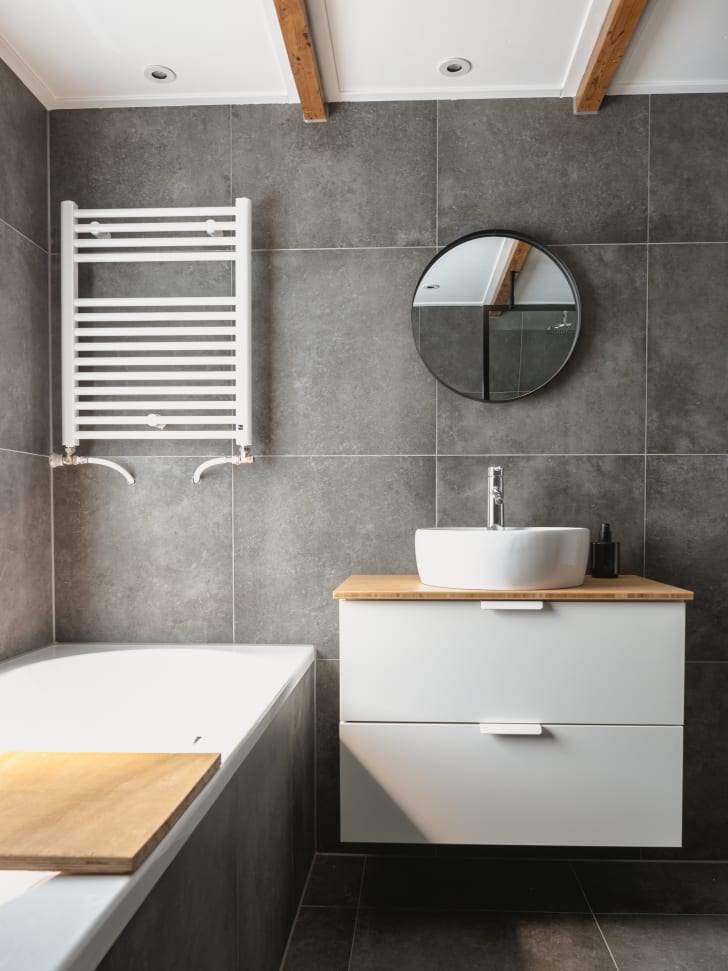 Find a place to store anything you don't need on a regular basis. Bath mats and drying racks should be out of sight when they're not being used. Choose foldable options so you can tuck them away more easily.   
Use transparent materials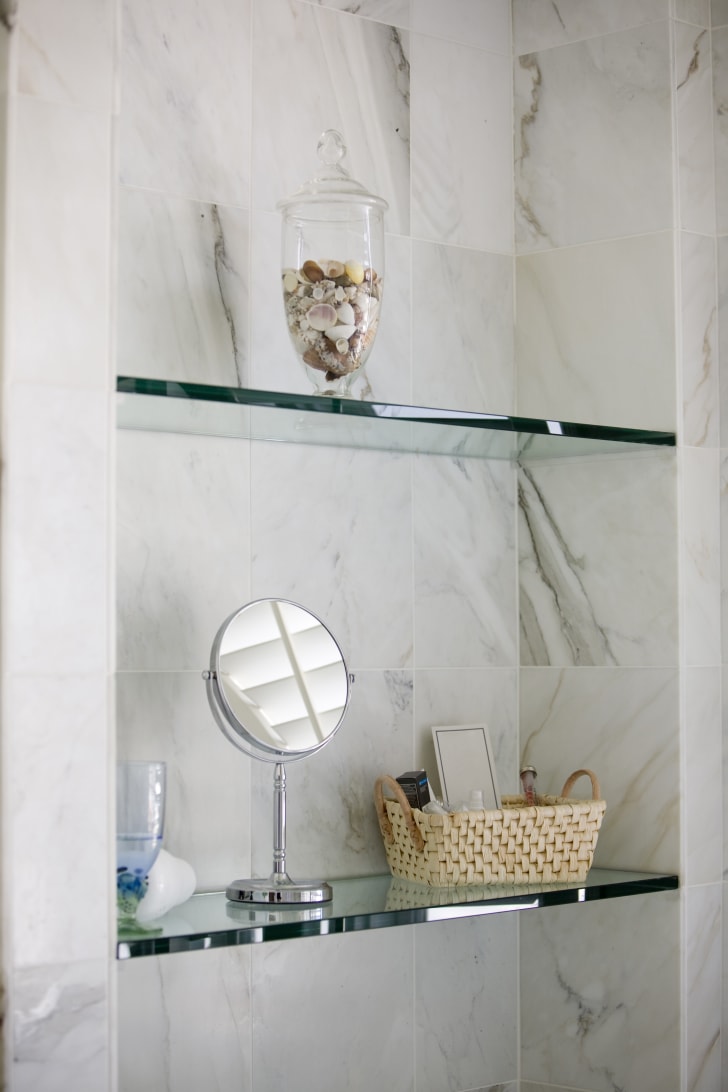 Lighten your small bathroom with glass accessories and light fixtures: think about using a glass soap dish, a drinking glass, vases, and even shelves.  
Frosted glass panels are also a great option. They can make any bathroom more modern while providing privacy. Out with the old shower curtain, in with glass doors and panels! You can also use frosted glass on your interior doors and windows.  
If you need shower curtains, we recommend using clear ones. Some even come with built-in pockets to store your shower gel and shampoo. A clean look and all your shower products close at hand? It's the best of both worlds! 
Make your dream bathroom a reality 
There are loads of ideas out there to make a small bathroom feel bigger. Some require more work than others, such as installing a bowl sink, vanity, or roll-in shower.  
Can you picture your perfect bathroom but need someone to bring that vision to life? Contact a RenoAssistance Advisor for quotes from up to 3 Verified Contractors who can help you with your bathroom remodel. Your project could be next!  
4 on-trend small bathroom tips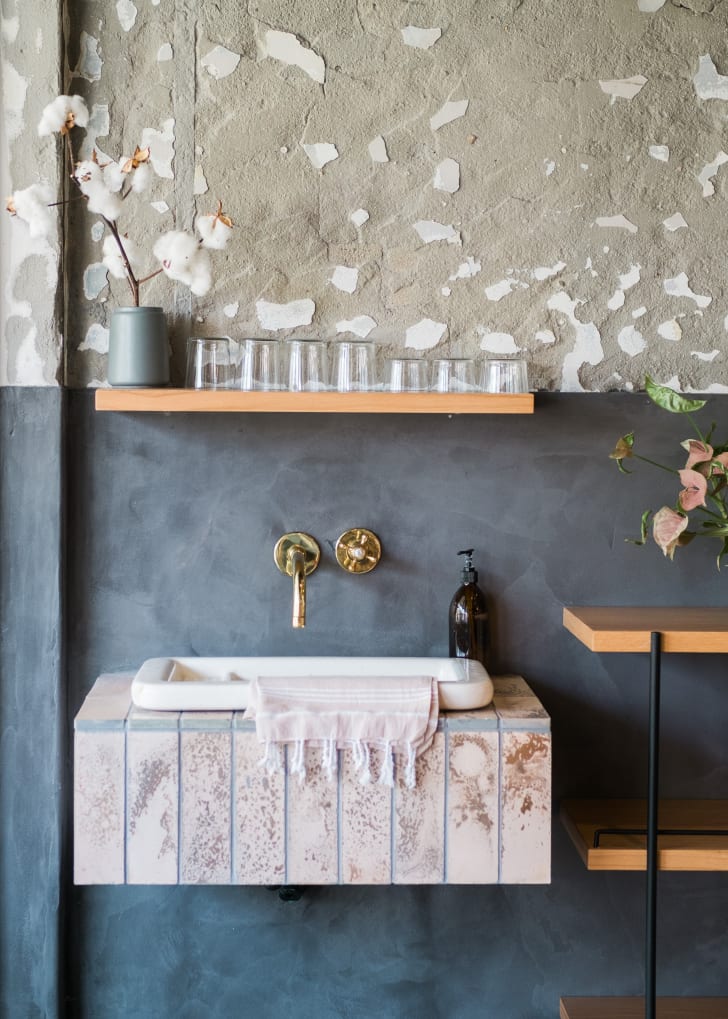 The aesthetic of a small bathroom is just as important as how you organize it. Even if you're tight on space, it's key that the look and feel of your bathroom be pleasant and inviting.  
1. Pick your design style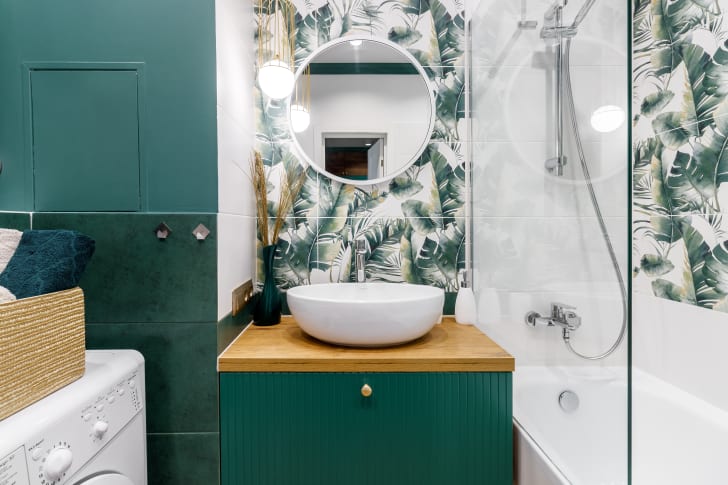 Avoid making the space feel too busy by choosing a visually cohesive design that creates a unified look. It will also help you select decor and accessories that complement each other. As the saying goes, sometimes less is more.  
2. Choose materials that are easy to clean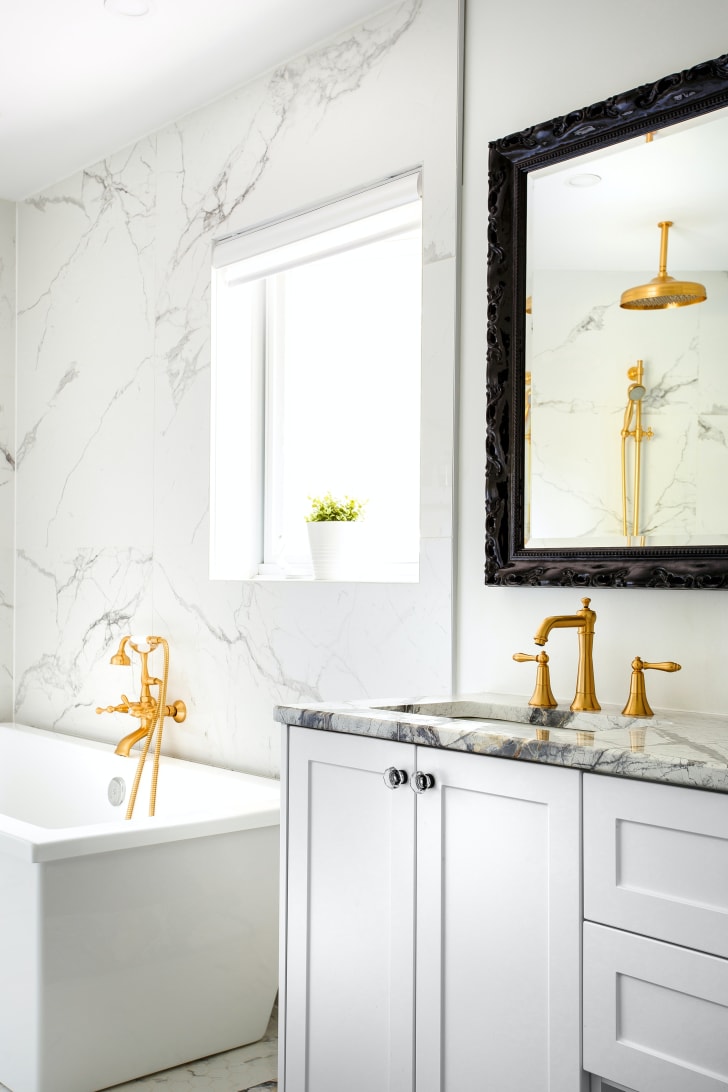 You should choose materials for your bathroom remodel that suit your budget and your taste, and not just because they're on trend. We do recommend focusing on materials that are bright and fresh with a clean look.  
If you can, opt for surfaces like quartz that are easy to clean and maintain. Avoid untreated wood or other materials that don't stand up well to water.  
Water-resistant options include ceramic tile, stainless steel, and glass. Consider the durability of the materials you choose, especially if it's an expensive remodel.  
What about your choice of faucet? It can easily add the right touch to your decor. We recommend chrome faucets. Have you thought of installing a wall faucet? They come in different lengths. So, the smaller your sink, the shorter you want the spout to be.  
3. Use lighting wisely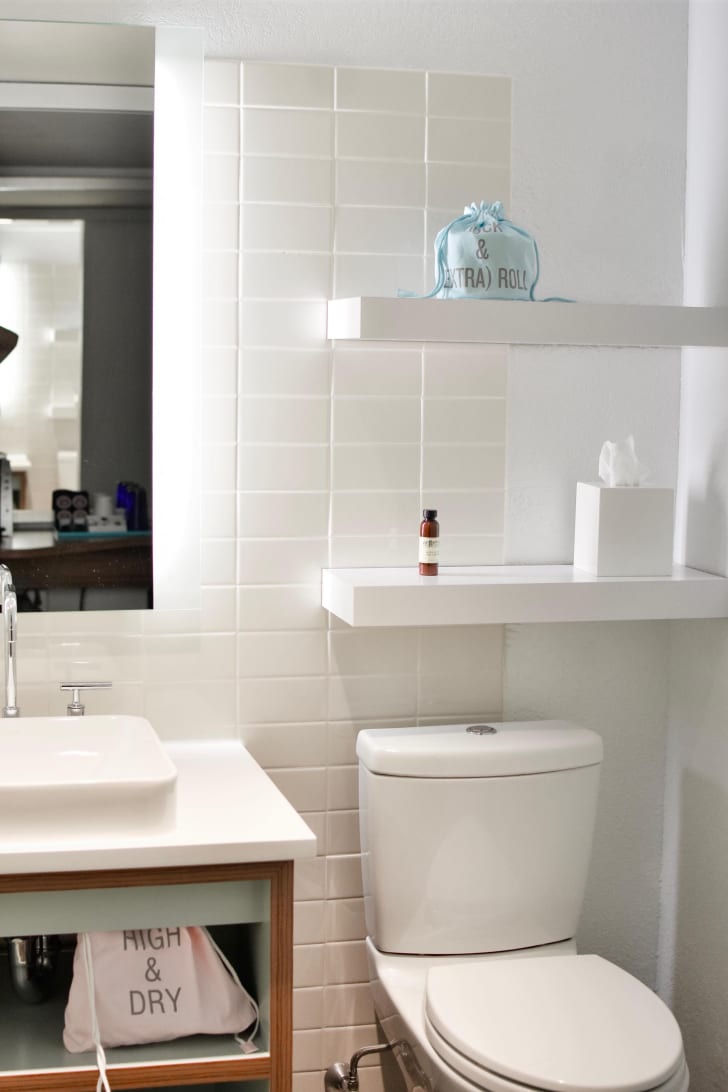 Lighting has a huge impact on a room. To keep your bathroom lighting as natural as possible, use bulbs that give off a warm, soft light around your mirrors—mirrors with built-in storage, let's not forget!  
Another excellent option is wall sconces. They're understated and come in a wide range of styles. They provide interesting design features and plenty of light. Ideal for a more luxurious feel! 
4. Use colours and patterns wisely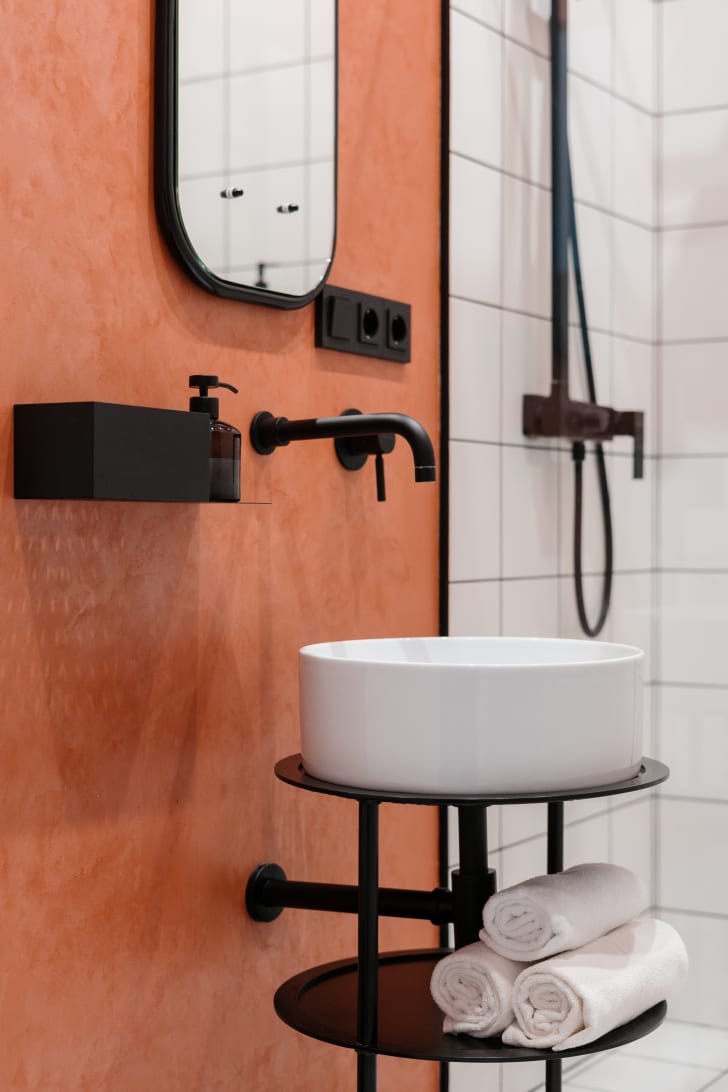 To make the room look bigger, lighter colours and minimalist patterns are the way to go. Think "bright" and "simple" when choosing your colour palette to keep the space feeling open.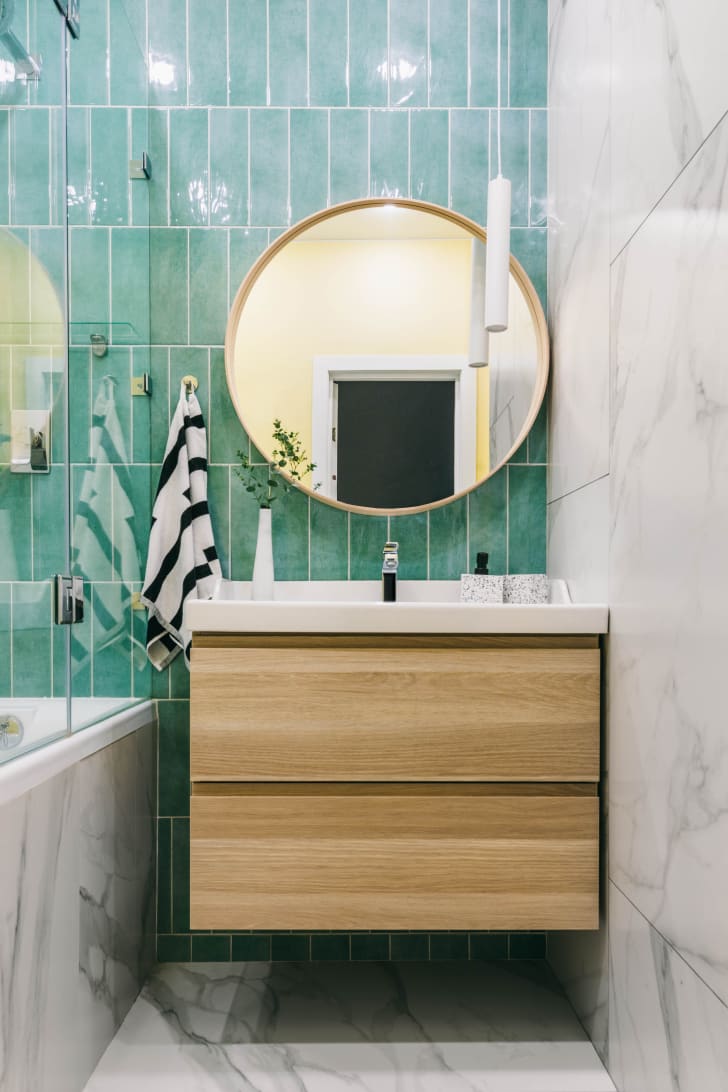 Of course, the most important thing is to listen to yourself. Have fun designing a room that suits your style. Get inspired by 2023–2024 colour trends.  
Want more? Get ideas on EspaceProprio's Pinterest account.