How does an outdoor sanctuary where you can unplug and unwind all year-round sound? Here are some outdoor hot tub ideas to give your backyard a spa-like feel! Read on to find out why backyard hot tubs are so popular and, most importantly, the simplest way to get one installed.
The benefits of a hot tub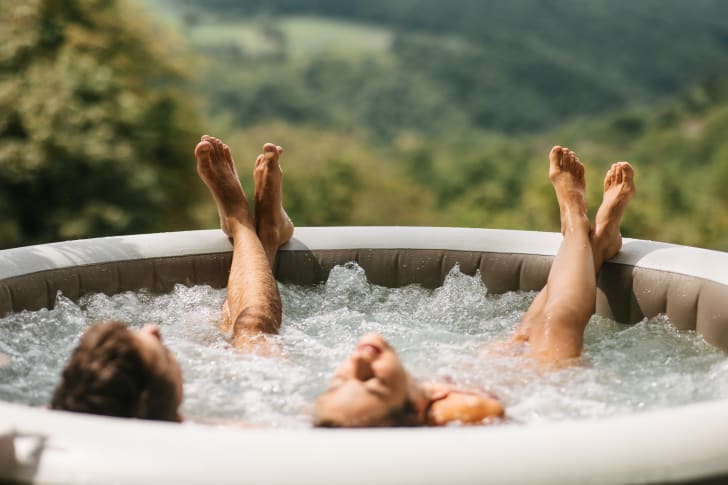 There are probably days when you're stressed out and overwhelmed by your day-to-day responsibilities. And we all know it can be a struggle to know when to take a break. Every once in a while though, some of us take the time to book time at a spa. It's a great way to take a step back from our hectic lives and take care of ourselves. 
It's an experience that has numerous benefits for your body and mind. It usually includes a hot tub, which reduces stress in large part thanks to hydrotherapy. 
Warm water, bubbles and jets help our bodies relax and release endorphins. Hot tubs provide a soothing effect that will boost your well-being.  
Hot tubs are often used in thermotherapy, a treatment that involves alternating between hot and cold, like going from the sauna to a cold pool or shower. Cycling between hot and cold is known to stimulate the immune system.   Here are some other benefits of hot tubs and thermotherapy:  
Soothes muscle and joint pain 

Promotes better sleep 

Improves blood circulation 

Cleanses the skin by eliminating toxins 
And don't overlook the importance of maintaining your hot tub. Experts recommend regular maintenance to avoid problems, especially during the winter. But the benefits far outweigh the addition of a relatively simple chore. 
That said, thermotherapy isn't right for everyone. People with heart problems, uncontrolled high blood pressure and certain skin conditions should speak to their doctor before using a hot tub. Hot tubs are not recommended for young children and pregnant people. The minimum age for children using a hot tub is 6 years old and for no more than 20 minutes. 
5 benefits of having a hot tub at home 
Are you considering getting a hot tub to create your own backyard oasis? Learn about the advantages of having your very own hot tub. 
 1. Easy access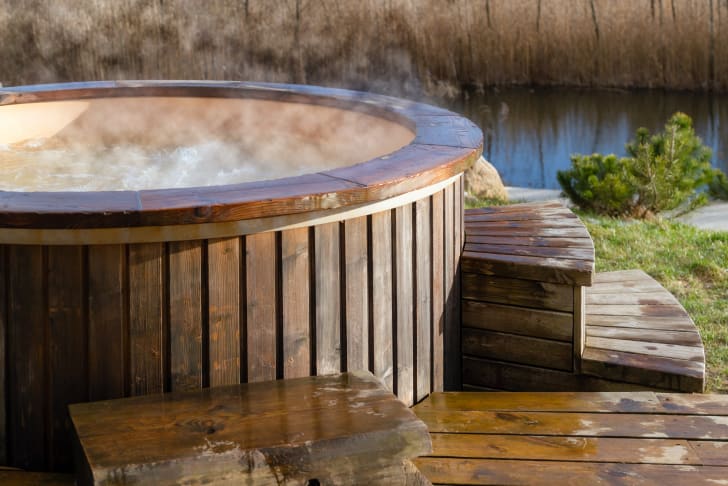 Being able to relax at any time of the day is a real treat! In fact, the benefits of having 24-hour access to a hot tub cannot be overstated. You wouldn't need to plan a trip to the nearest spa; all you'd have to do is walk out your back door. 
After a soak in a hot tub, a cold shower does wonders to invigorate the body. If you decide to get a sauna instead, you can alternate between hot and cold, but be sure to drink lots of water.   
2. Quality time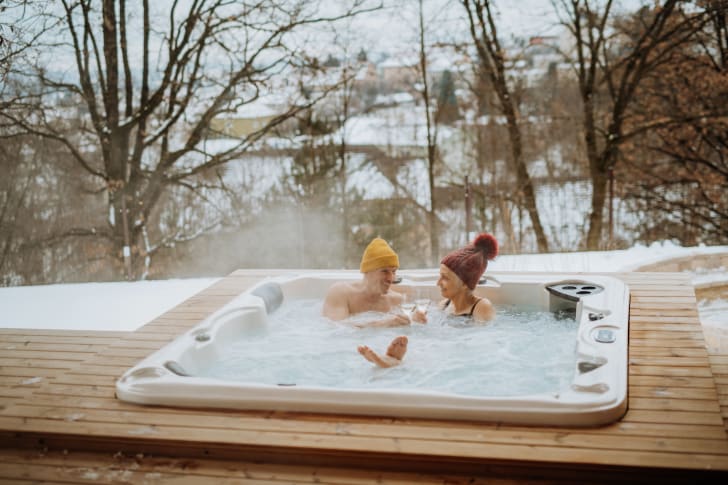 The calming effect of hot tubs is sometimes best shared with friends and family. No screens allowed. Just face-to-face time to connect with loved ones.  
What's more, you also get the benefit of being in the privacy of your own backyard to make the most of these relaxing moments. 
3. Pain relief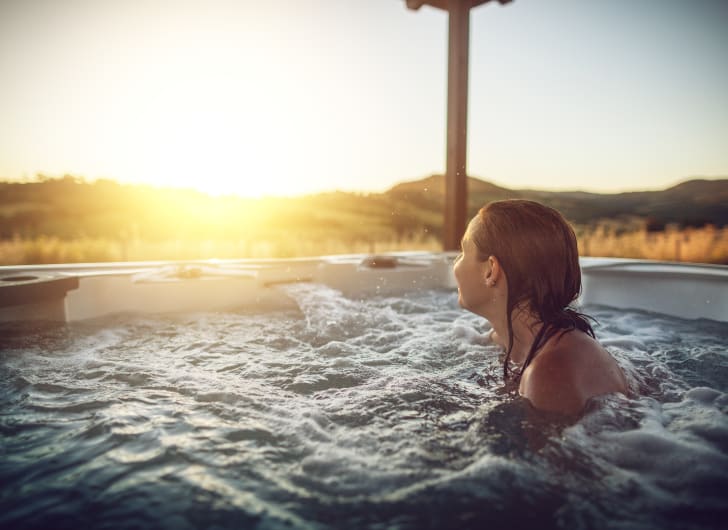 Enjoy hours of relaxation. Hot tubs provide a sense of calm that can have a positive effect on your state of mind. But research in this field is still evolving. The effects of thermotherapy on a person's mood may vary. 
On the French-language website PasseportSanté, it states that there are 2 major benefits of hydrotherapy: reduced inflammation and joint pain relief.  
The steam from the hot tub helps clear out the nasal cavity and balances mucus in the airway, according to a French article on Humer. Something to keep in mind during cold and flu season! 
4. Long-term investment 
On the surface, installing and maintaining a hot tub can seem expensive. But it's a good way to increase the value of your home. It could make your property more appealing to prospective buyers, if you plan on selling one day.
5. Visual appeal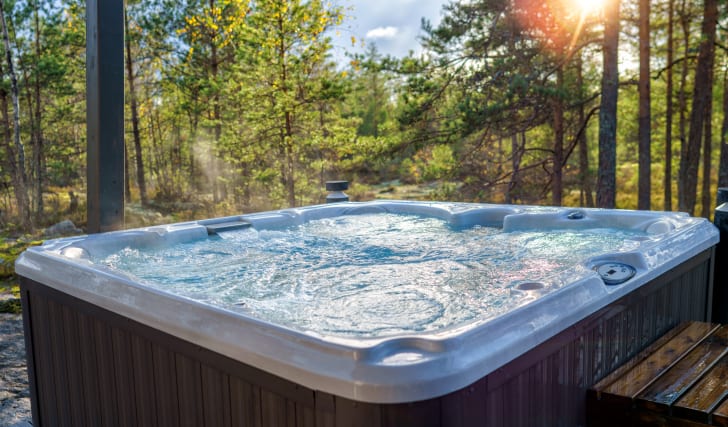 A good hot tub setup looks appealing to everyone. It has an undeniable visual appeal and becomes the focal point of any backyard. Get a nice handrail for getting in and out of the hot tub safely, especially when the ground is wet or frozen.  
How to create your own relaxing backyard oasis 
Have we piqued your interest? Let's get started on designing the beautiful backyard sanctuary of your dreams!            
Hot tub placement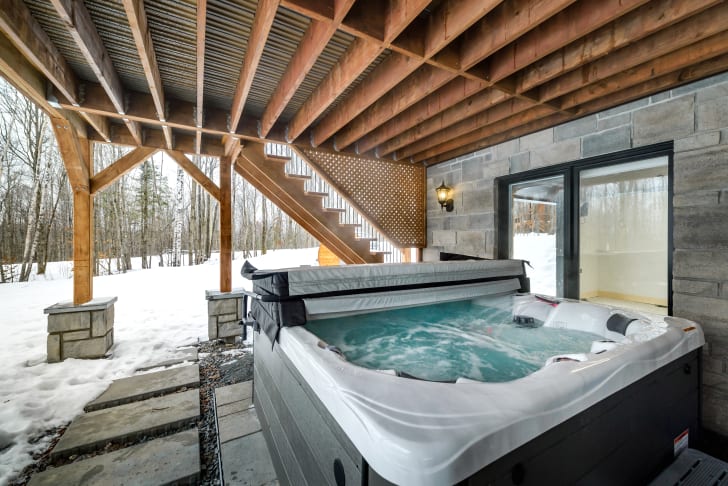 The first step is deciding where you want to put your hot tub. You want to make sure you pick the perfect spot. Choose a place that has some cover from the wind to reduce wear and tear on the hot tub and its equipment, to better control steam direction and, most importantly, to ensure the most relaxing experience.   
Place the hot tub near the house to make it easier to get to—and to avoid freezing your toes off in the winter! An overhead cover is ideal, like a gazebo or pergola.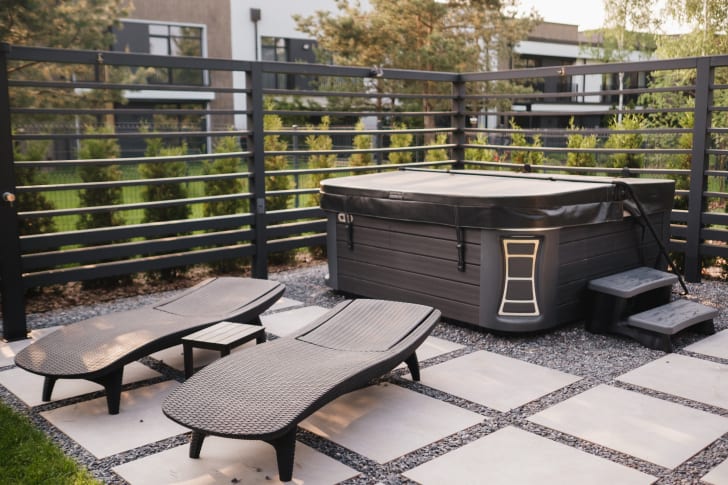 You also have to consider how you're going to separate the hot tub area from the rest of your backyard. Do you want to install a fence, a wooden screen, a trellis or a curtain? There are a number of options to choose from.  
Anti-slip flooring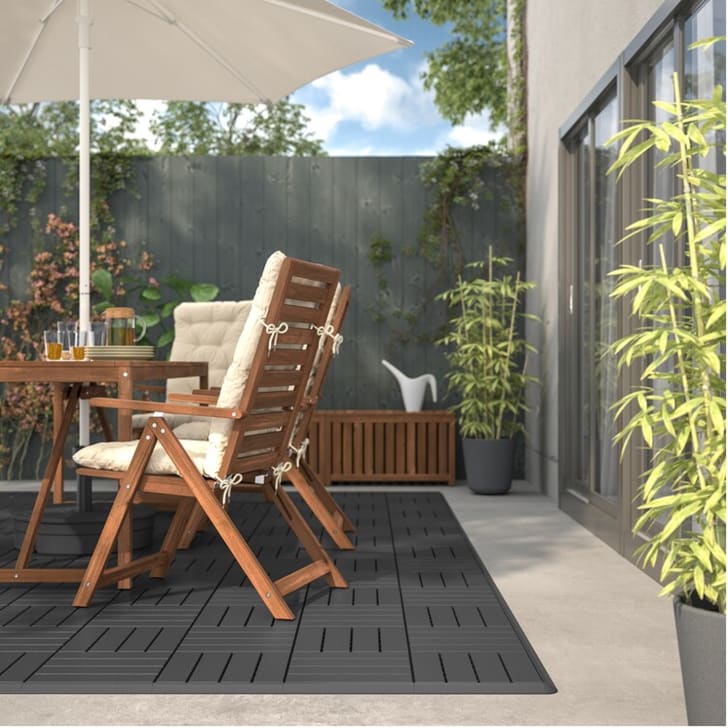 Floor coverings not only serve to delineate the hot tub area, but they also help prevent accidents.  
Be sure to choose something that's anti-slip to minimize the risk of a fall. Anti-slip mats are also easy to clean and are more comfortable underfoot.   
Raised deck or patio 
If you want your hot tub to be on a raised surface, you'll have to plan on building a deck or patio. It will create a transition between the hot tub and the rest of your backyard, and make it all the more appealing. 
For an eye-catching aesthetic and durability, go with natural materials. Wood, stone and sandstone are great options—even more so if they're sustainably sourced! 
If you're considering renovating your deck or patio, contact RenoAssistance. Our Verified Contractors can help you make your outdoor project a reality.
Plants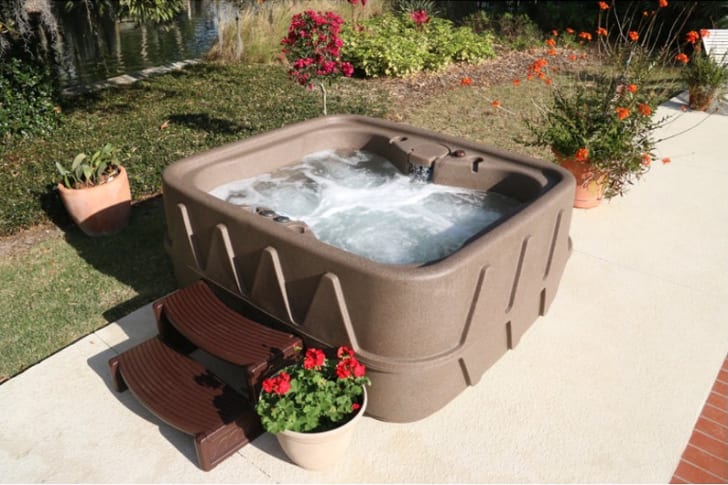 Plants can transform any space and foster a calming environment, so you can't go wrong by peppering a few around your hot tub. In addition to creating a sense of calm, a living wall makes a great privacy screen to keep prying eyes out of your backyard. 
You can opt for cedar hedges or install a fence for even more privacy. 
Lounging area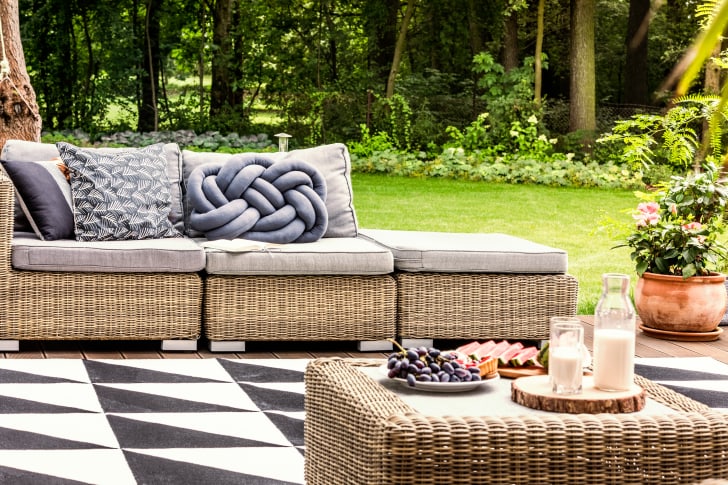 What do we mean by "lounging area"? Quite simply, it's a space—ideally near your hot tub—where you can relax, read a book and bask in the sun. Somewhere you can eat, chat or meditate. A welcoming place where you can hang out with friends and family—or enjoy a quiet moment by yourself.  
Decorate the space so it suits your needs and lifestyle with lounge chairs, cushions and accessories. Don't forget a side table for your drink and snacks.  
Lighting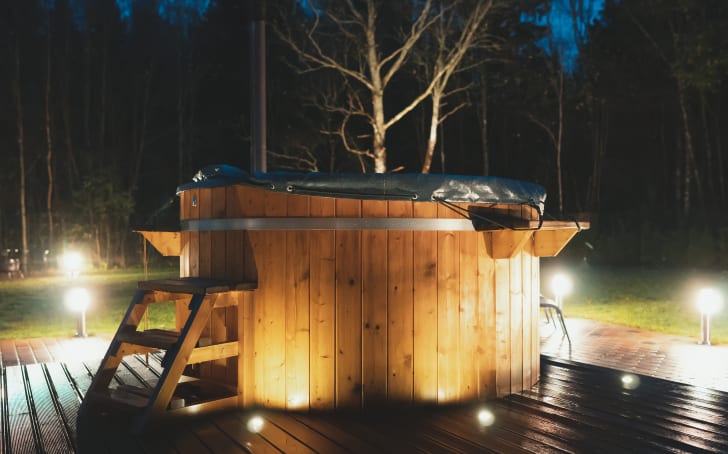 Lighting is key, so you don't want to skip this step! A soak in the tub can happen day or night and you don't want to find yourself in complete darkness.  
The soft lighting provided by string lights, lanterns and in-ground lighting will add a warm ambiance to your backyard. 
The different types of hot tubs 
To get just the right spa-like feel, you need to pick a hot tub that works for you. It's important to know that installing a hot tub requires preparation and, in some cases, the help of professionals. 
In-ground hot tub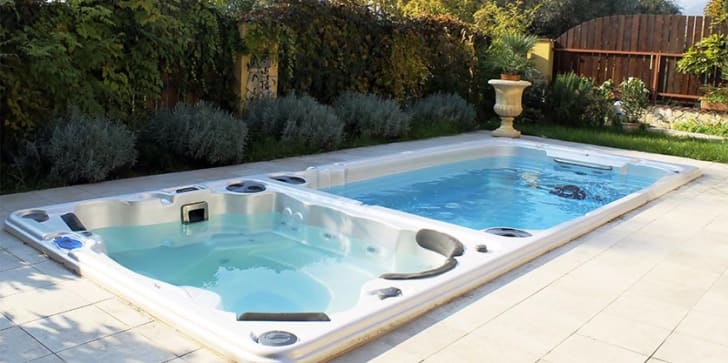 An in-ground hot tub is very much like an in-ground pool. It's built directly into an existing structure, like a patio or seating area.       
Semi in-ground hot tub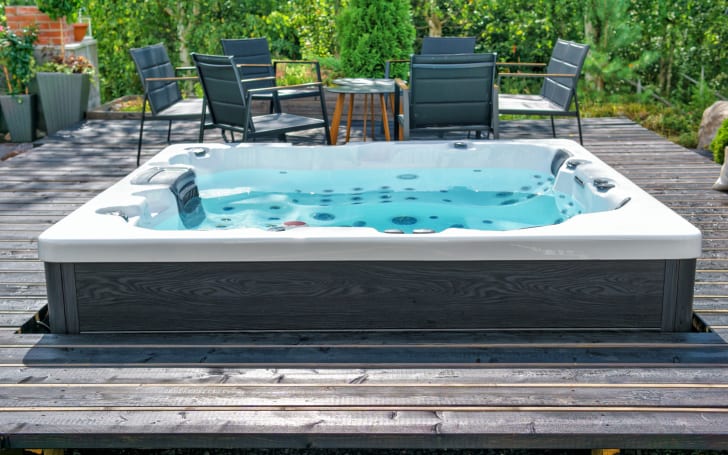 As for a semi in-ground hot tub, it's only partially in the ground. It may be easier to get into this type of hot tub since it's higher than ground level.   
Fun fact: In-ground and semi in-ground hot tubs are generally better insulated than above-ground hot tubs. That means they retain heat better in cold weather. 
Swim spa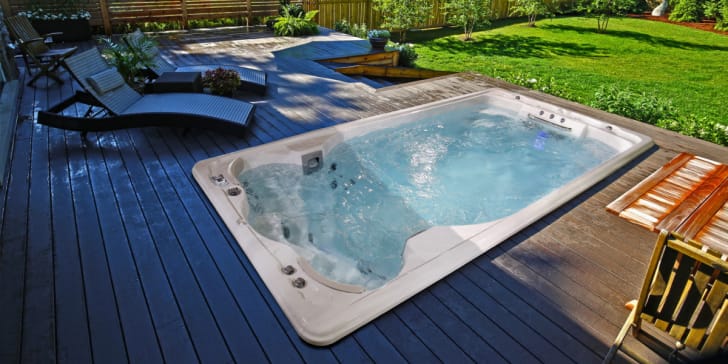 Swim spas are perfect if you want to relax sometimes and work out others. It's versatile, combining the benefits of a swimming pool and a hot tub in one, helping to make the most of your space.  
Hot tub kit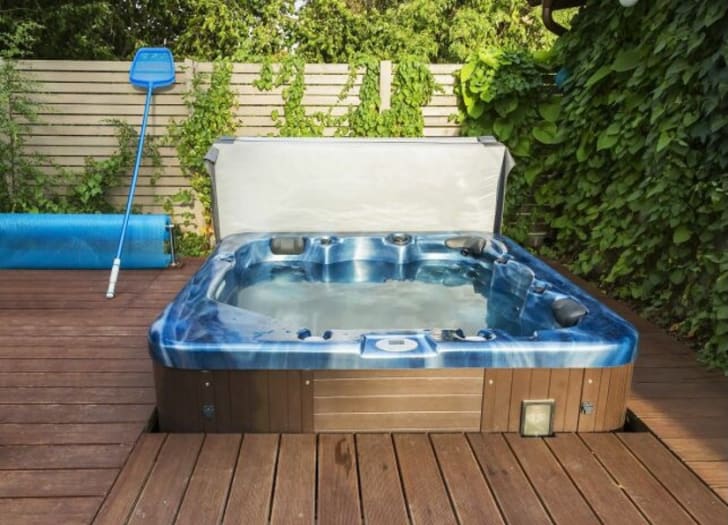 You can get a kit to build your own hot tub. It's typically less expensive, but the price varies depending on the materials. Its main draw is that—you guessed it!—you can assemble it yourself.    
Inflatable hot tub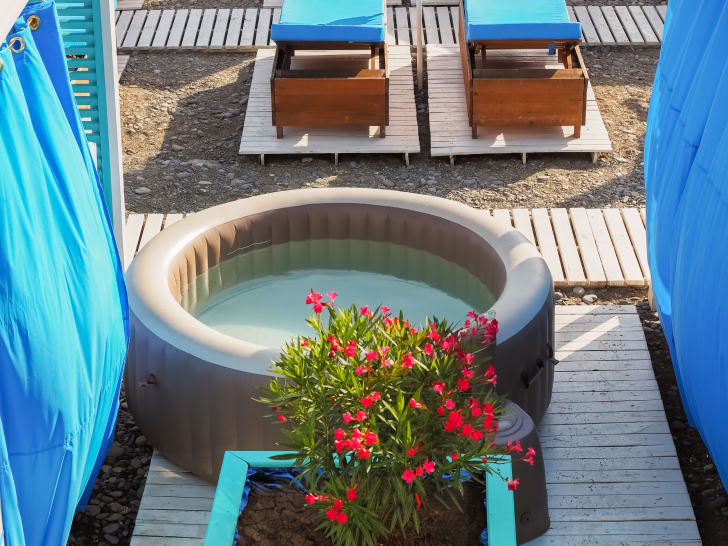 Do you want to be able to move your hot tub around or put it away whenever you want? An inflatable hot tub is just what you need! Despite its smaller size, we can't deny that it's incredibly practical. Because it's portable, it's the perfect option for smaller backyards.  
Regardless of the type of hot tub you choose, make sure you do some research on the different types of heating and filtration systems. The temperature of the water should be comfortable, and the water clean and clear, regardless of the season. In the winter, use a hot tub cover to keep the water warm. 
Do you have a project in mind and need some help getting it off the ground? Don't hesitate to consult EspaceProprio's advisory service teams.