Make your laundry routine more efficient by creating a functional laundry room. You can optimize and organize your space with the right storage solutions and an ergonomic layout. We have a few tips that can help you get the most out of your laundry room.
5 steps to designing your laundry room 
Whether you're looking for clever hacks or a complete overhaul of your laundry room, here are a few simple steps to make your life easier.  
1. Plan for what you need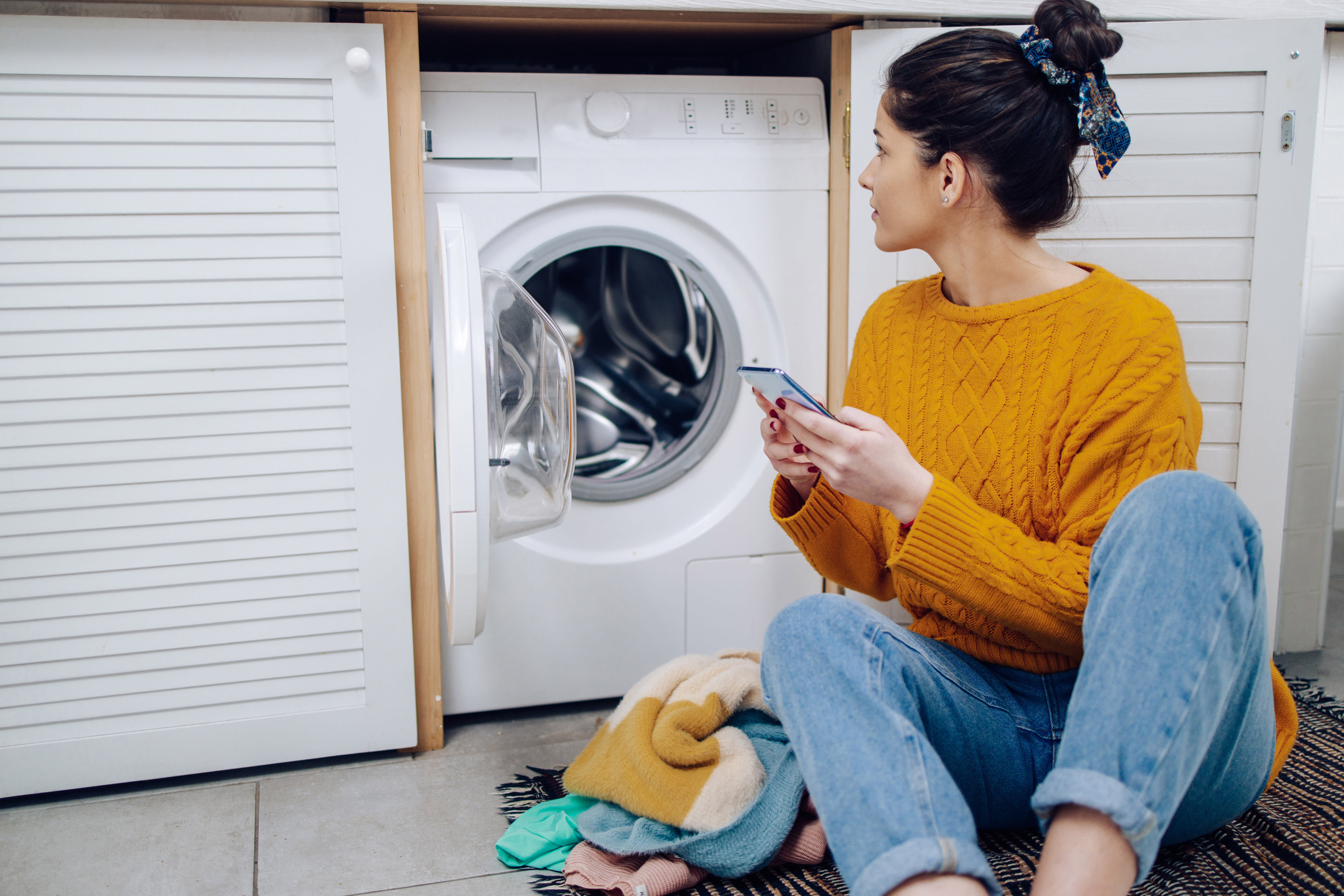 The first step is to think about how you're going to use the space. Consider your needs to get a better idea of what you want to change and improve. This will make the entire process easier. Ask yourself the following questions: 
Do I need to declutter before I get started? 

Do I need more storage space? 

Do I need a place to iron and fold laundry? 

What renovations can I do myself? 

Do I want the laundry room in the bathroom? 

Should I reach out to professionals for help? 
2. Design the space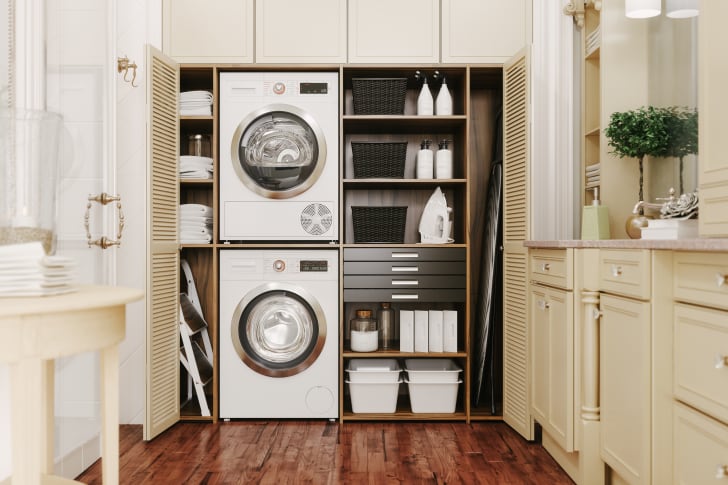 Choose where you want to put the laundry room if you don't already have a dedicated space. You'll want it to be somewhere near the water and drainpipes. 
Have a clear plan of what you want, both in your head and on paper. Make sure you have room for a drying rack and a place to lay clothes flat. Here are a few other questions you can ask yourself: 
Do I need a sink to hand-wash clothes, a place to fold clothes, and/or cupboards for laundry products? 

What type of washer and dryer work best with the space I have? 
You should consider all aspects of the space to make sure it's designed just right. A bathroom and laundry room in one is a great option. It makes for an optimized, multifunctional space! 
RenoAssistance can help you add a laundry room to your bathroom. Their Advisors will find you up to three Verified Contractors for your renovation project! 
3. Choose your materials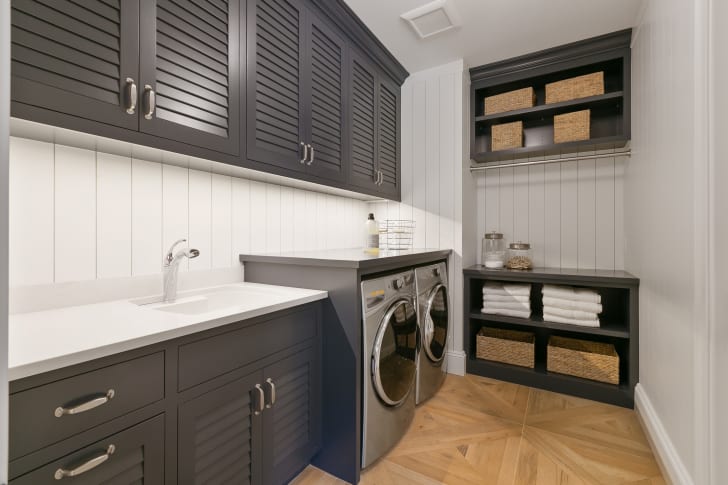 When choosing materials for a laundry room, make sure that they're suitable for the space and work with your budget and any other constraints. Here are some options to consider: 
Easy-to-clean flooring, such as tiles and waxed concrete 

Water-resistant walls or panels, cupboards, shelves, and countertops 

A stainless steel laundry sink—say bye-bye to unwanted water stains! 
What about your washer and dryer? Save space with front-loaders. Some are even designed to be stackable—and they're eco-friendly. 
4. Get started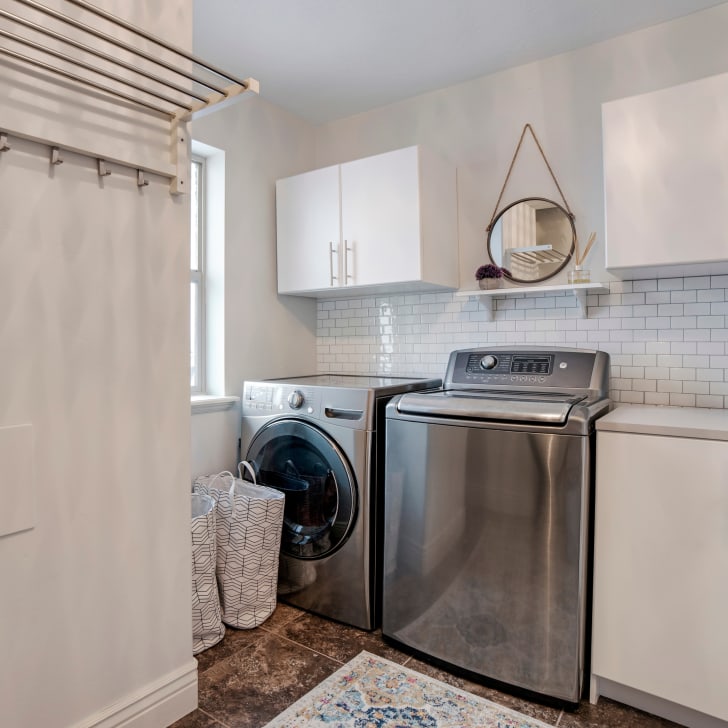 There's a lot to do! Some tasks are easier than others, like putting up shelves. You may need some help with installing a backsplash near the sink, putting up PVC panels on the wall, or installing new windows to make sure they're sealed tight. 
These are things you need to check—and don't forget about electrical. You'll also need proper ventilation to avoid moisture problems. 
5. Put everything in its place and decorate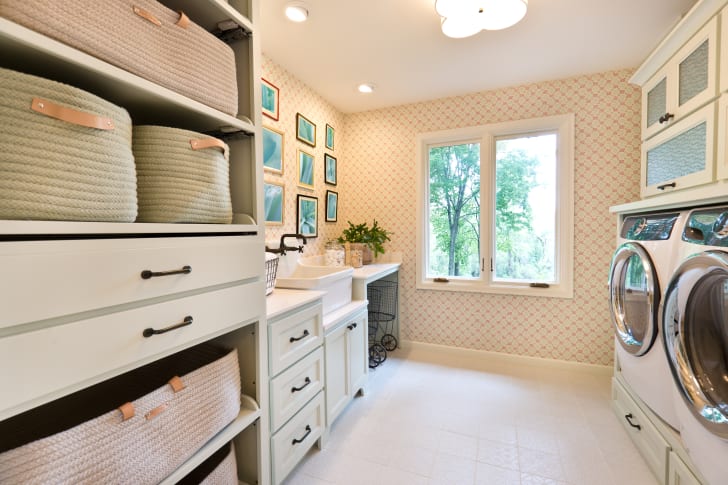 All you have left to do now is move in the appliances and decorate the space to make it your own. Choose a moisture-resistant paint or wallpaper, and let your inner designer have fun! Use baskets, hampers, and storage solutions to get the job done! 
Ideas to organize your laundry room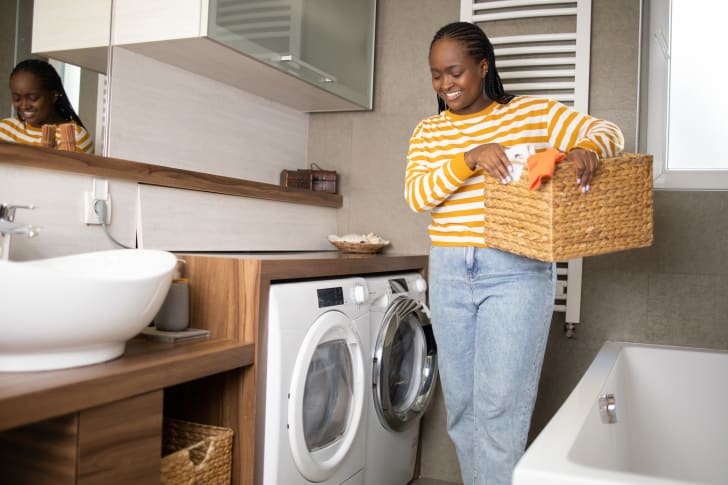 Are you the type to forget your laundry basket in the corner of a room for days? Are you procrastinating, or is it because your laundry room isn't organized properly? What if we helped you design a laundry room that works for you? 
Make room for countertops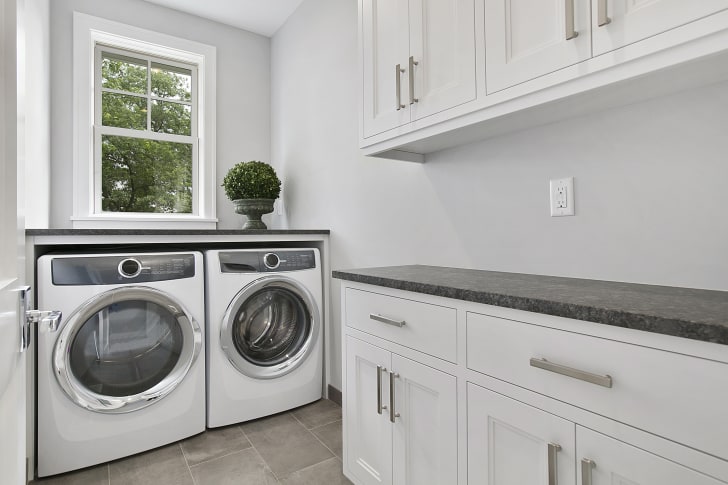 A counter is very useful in a laundry room. It can be used to fold and iron clothes, making the necessary chore of doing laundry easier. The best place for a countertop is near the washing machine.  
You can have a foldable or wall-mounted table to save space if your laundry room is on the smaller side. 
Choose the right storage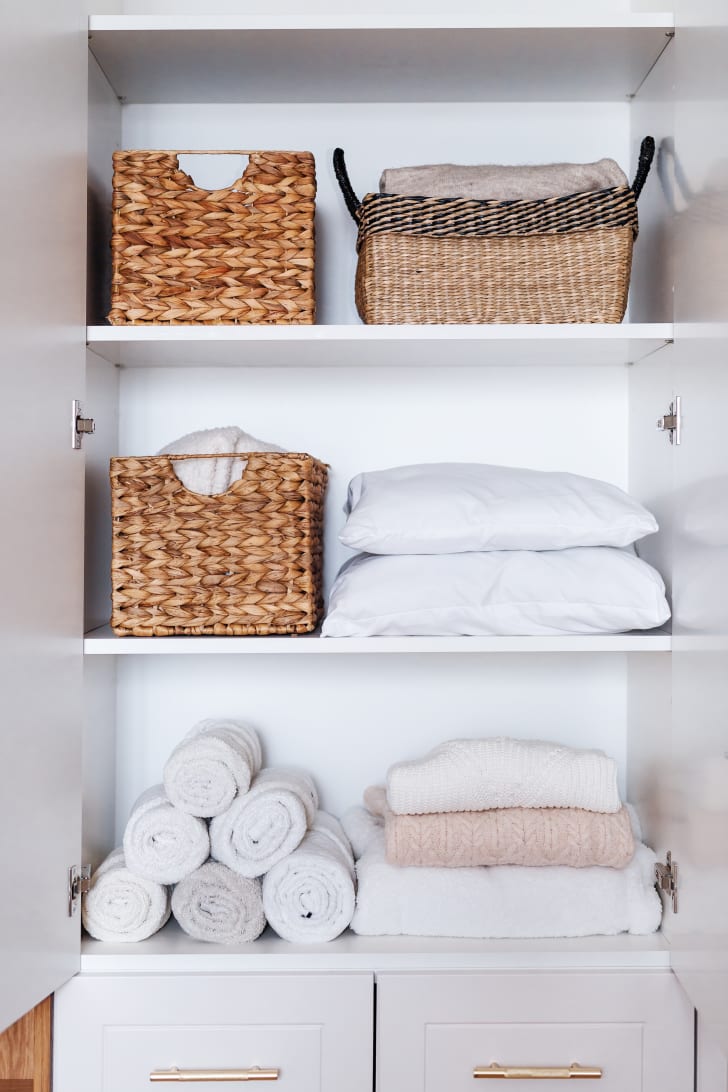 Always put practicality first when designing your laundry room. In other words, make sure you have enough storage.   
Place drawers and bins under the counter. 

Install cupboards above the washer and dryer to store your cleaning products. 

Use different coloured laundry baskets to sort dirty clothes. 
Don't forget a place to hang your clothing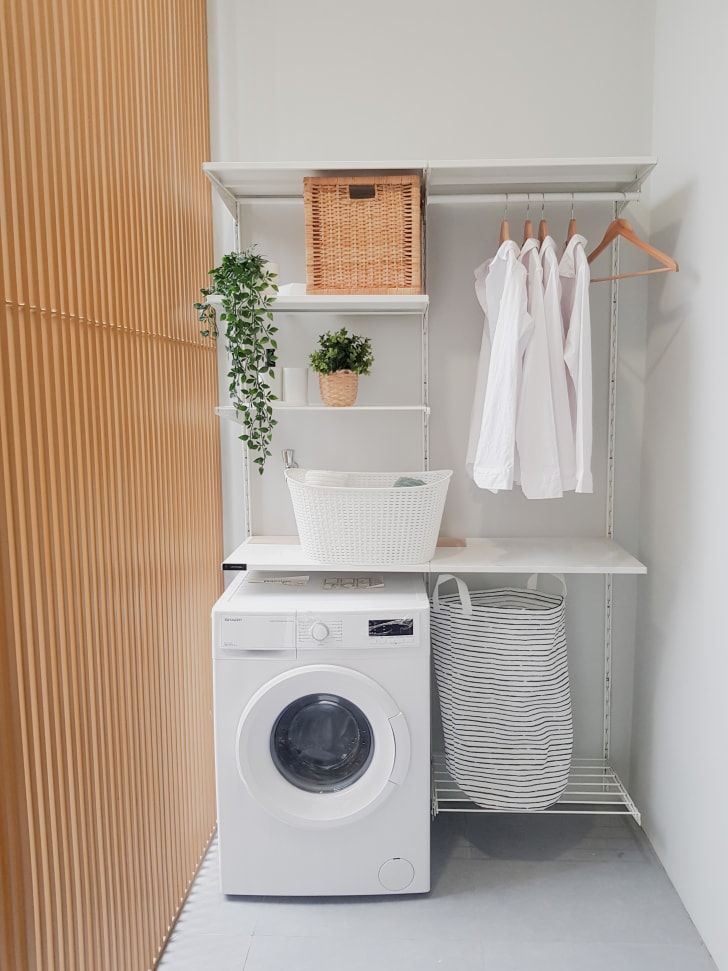 Do you have room for a closet or wardrobe to hang clothing to dry? This is a great solution to keep your laundry room looking tidy! If your space is on the smaller side, you can use hanging rods. 
Decorate your laundry room 
Your laundry room should be a place you enjoy being in. And who knows, decor that meshes with the rest of your home might just be the thing that motivates you to tackle all those loads of laundry. Use these tips to make a laundry room you love! 
Choose on-trend paint colours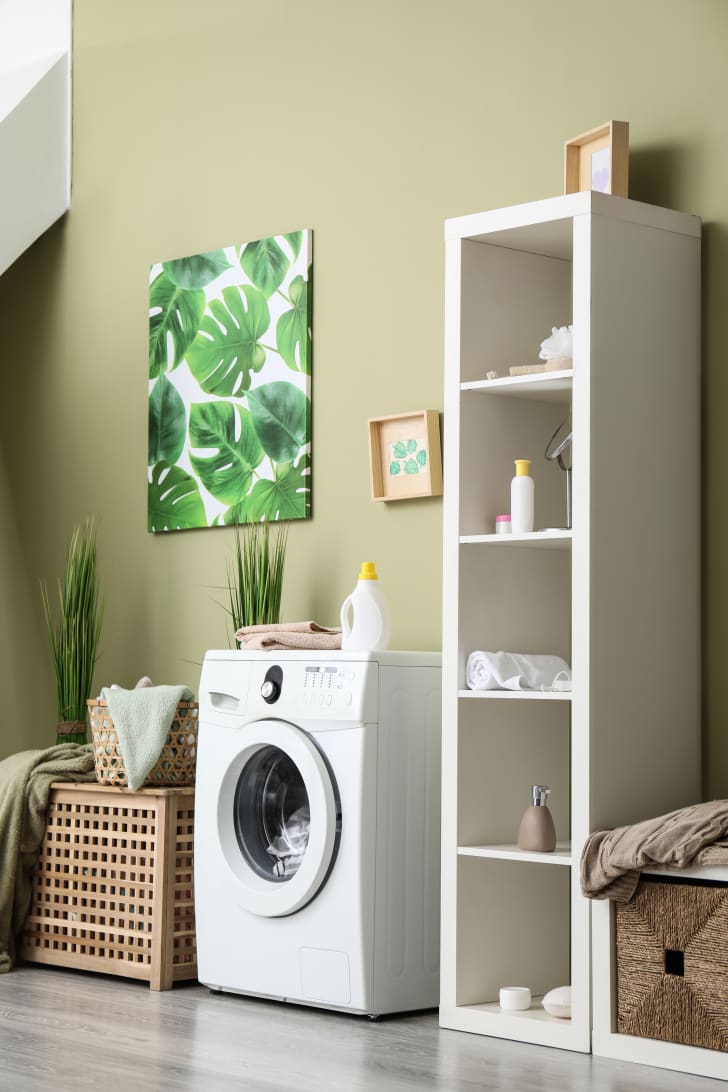 Ready to pick your paint colour? Go with something bright, especially if your laundry room is in the basement and has little or no natural light. We recommend whites, soft blues, light greens, and other pastel shades. 
Give the room a little character by adding colour with accessories, like laundry baskets, picture frames, and towels.  
Use wallpaper and wall decals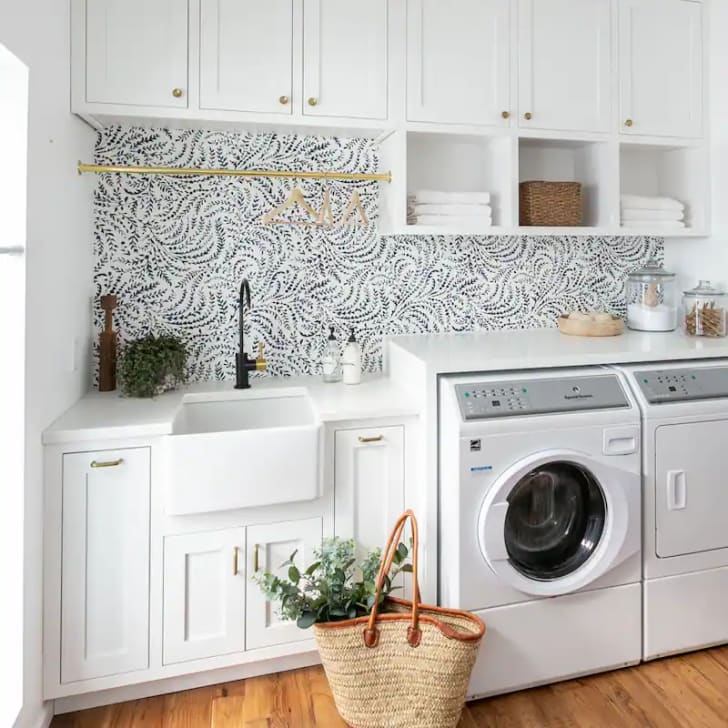 Wallpaper and wall decals are another great way to add character to a space! It's a sure way to make the room pop! Just make sure the one you pick is suitable for humid environments. 
Top it off with some accessories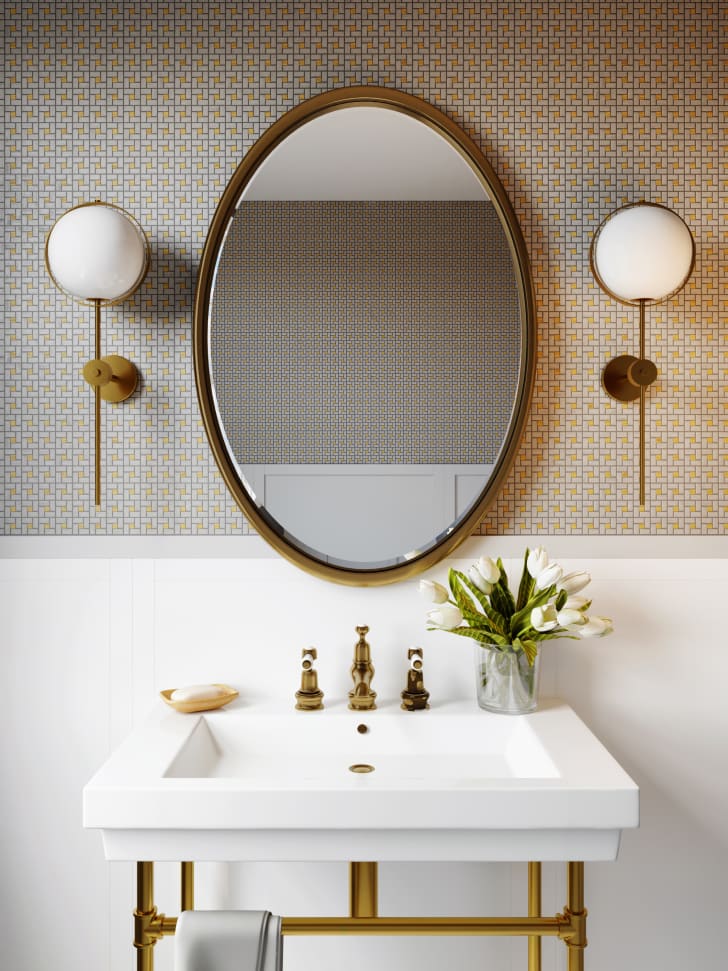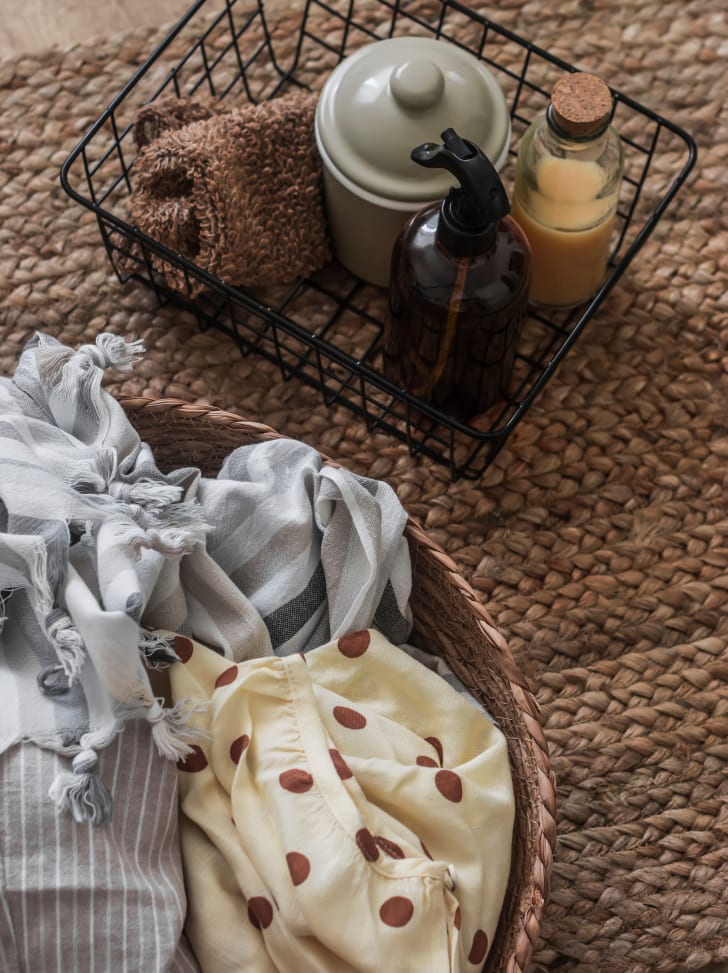 Now's the time for the finishing touches! Here are some items to complete your laundry room: 
A whiteboard for your to-do list 

A mirror to make the room look bigger 

Plants, especially ones that thrive in humid environments 

Hooks for washcloths and brushes 

A comfortable mat in front of the sink  

Different types of baskets 

A wall-mounted detergent dispenser (welcome to the future!) 

A garbage can for ... well, do we really need to explain? 
Do you have something in mind and just need a hand to make it happen? Contact EspaceProprio's team of experts.