An outdoor kitchen extends your living space and gives you the option of entertaining outside. It doesn't need to cost a fortune, either! Below, we show you how easy it is to create a homemade outdoor kitchen you can be proud of.
Why you should invest in an outdoor kitchen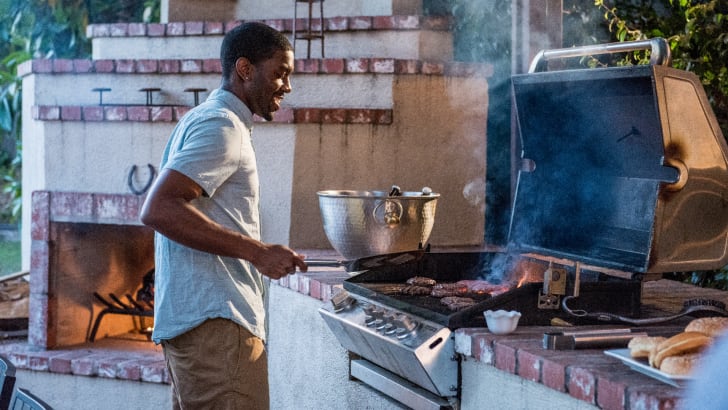 It's not ideal being stuck indoors pouring drinks and preparing appetizers while your guests enjoy the fire pit outside. So, why not create a space where you can cook meals AND spend quality time with your visitors in the fresh air? With an outdoor kitchen, you can: 
1. Appreciate great weather Canada might have a short summer, but with a backyard entertainment area, you can make the most of it. Savour our wonderfully warm evenings by cooking in your fully stocked outdoor kitchen. 
2. Spend less time away from the action Instead of going back inside every few minutes to fetch drinks or plates, you can stay outside, prepare a meal, and connect with your guests. Everything you need is right there with you.  
3. Entertain We love being outdoors and a backyard entertainment zone gives you more room in which to gather and bond with loved ones. Make it extra special by adding lights and speakers to set the mood for every occasion. 
4. Extend your living space Now there's another area of your home to relish in spring, summer, and fall. Make new memories, try new meals, and enjoy all the benefits of eating outside.  
5. Keep smells and mess out of the house A seafood dinner is delightful in summer, but certain dishes can leave an unfortunate, lingering scent in your home. Plus, when you're serving a crowd, accidents are more likely to happen on your rugs and furniture. Cooking outdoors keeps the interior odour- and spill-free.   
6. Increase your home value An outdoor kitchen adds valuable living space to your property. If it appeals to prospective buyers, you could make a substantial return on your investment.
Planning your homemade outdoor kitchen in 5 steps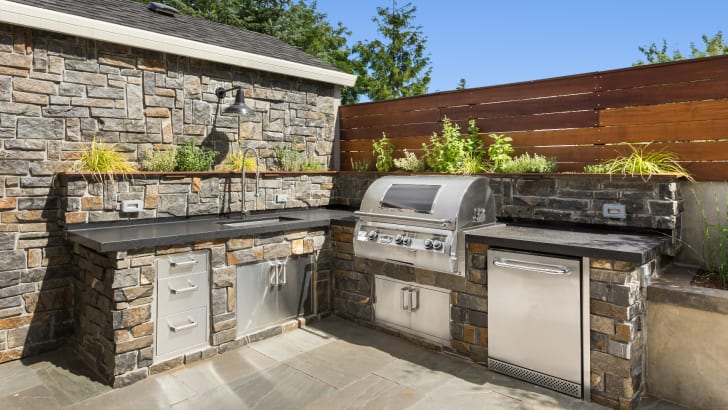 Building a homemade outdoor kitchen safely and efficiently requires careful planning and preparation. During this stage of your project, you must consider elements like location, size, budget, and which materials or tools you'll need. 
Step 1: Choose the right location 
Ideally, your outdoor kitchen should be built near your back door, especially if you'll need electrical, water or gas lines. This also gives you (and your guests) easy access to the house when needed. If you have an existing deck, patio or covered pergola, this is a good spot as it will offer shade and protection from the elements. 
Lastly, think of your own habits and how you'll use the space. Your backyard entertainment area should reflect your lifestyle, and this will also inform your choice of location.  
Step 2: Set a realistic budget 
Your budget will dictate your materials, appliances, finishes and fittings. Remember there are many options for outdoor kitchens, ranging from basic and affordable to more complicated and luxurious, so you can easily find one that fits your requirements. Also bear in mind that unless you already have a collection of DIY tools, you'll need to purchase or hire these, adding to your costs.   
Step 3: Define the size and layout of the kitchen 
How many people do you plan to entertain and how much prep space will you need? Are you sticking with a basic grill, countertop and bar fridge, or are you adding other items like a sink, extra storage, and a pizza oven? A counter with bar stools is also a great way to invite conversation while you cook. The answers to these questions will define the size and layout of your kitchen.   
Step 4: Find the necessary materials  
Depending on the complexity of your outdoor kitchen design, you'll need certain tools and materials. Are you building a wooden frame from scratch in which to install your fixtures? Will you be cladding it in stone? Or are you opting for a ready-to-assemble approach? Bear in mind the kitchen will be open to the elements, so choose materials that are fireproof, durable and low maintenance. Do some research on the type of kitchen you plan to install to ensure you have everything before you begin.   
Step 5: Consider utilities and installation 
If you're installing a sink, dishwasher or ice maker, you will need plumbing. Likewise, a refrigerator, lights, an electric grill, or a warming drawer requires an electrical line. Are you using propane or natural gas for your grill and side burner? You might have utility lines installed already, but if you don't, speak to a licensed professional to hook them up. This is one step you don't want to do on your own.
How to build your homemade outdoor kitchen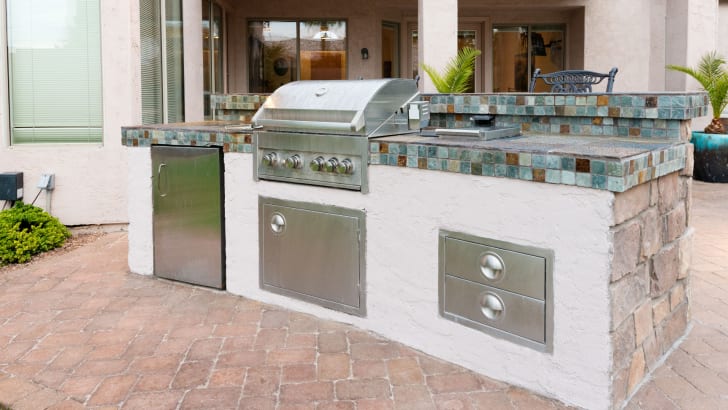 There are several different outdoor kitchen designs to choose from, but these are the basic steps you will follow. 
Take measurements and draw a plan  
Grab your measuring tape and accurately record the size of the space and each element you'll be incorporating. Draw the design on a piece of paper and take it with you when you order materials. The more detailed your plan, the better.  
EspaceProprio Tip Having a visual to work with makes things easier. If you're struggling to decide between different appliances, draw their dimensions on your patio in chalk to see how well they fit in the space. 
Prepare the construction site 
Before you start building, ensure the area is clear of trees, roots, rocks and anything else that might impact your foundation. Also check the ground is level and there are no buried utility lines. If in doubt, consult the home title and any other building codes that may restrict how and where you can build. For less complicated projects, however, these steps may not be necessary.   
If you're starting your kitchen from scratch, you'll need a firm, flat surface to support the weight of the frame and heavy kitchen appliances. Two possible options include a basic patio of poured concrete, pavers or stone (this is the most durable, but you might need to hire a professional), or a floating or ground-level deck (under which you can hide the utility lines).   
Create your outdoor kitchen structure 
First, your outdoor kitchen requires a wooden, metal or concrete block frame which will serve as the supportive structure around the grill and other appliances. If you're inexperienced, wood is probably the easiest DIY material to use for this.  
Remember that your outdoor kitchen doesn't need to be elaborate. To keep things simple, build it as an island bench to the side of a free-standing grill, or incorporate the appliances into the frame itself. Another option is to find existing cabinets to refurbish and place on either side of your grill. These ideas also give you the freedom to change your design in future or take it with you if you move (as the outdoor kitchen is not secured to the home or foundation).  
Regardless of the option you've chosen, include enough countertop space and storage. Cabinets (of a durable material) for storing utensils, dinnerware and grilling supplies are always useful, but, if necessary, mount shelves or cabinets on the outside of the house. The best choice of countertop for outdoor use is one made of natural stone, quartz, concrete or stainless steel.   
You're almost there! Call the professionals to hook up all utilities so you can install your appliances, lighting and countertops. Then, it's time to add your grill, sink, refrigerator or wine cooler. As a final precaution, have a building inspector check the work completed so you have peace of mind that everything is up to code.    
It's almost time to get grilling. If you have the budget, final additions to your homemade outdoor kitchen might include a patio heater, fire pit, weatherproof coverings, speakers and a herb garden. Don't forget touches that reflect your personality and style. With comfortable outdoor seating and a magical backyard entertainment area, you'll easily extend the outdoor season past summer.
Draw on our videos and podcasts for other inspiring ideas and tips.