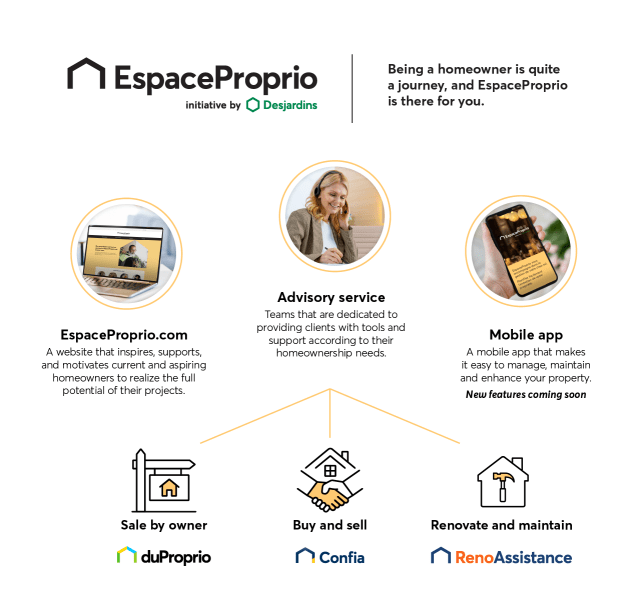 The EspaceProprio ecosystem
Bringing together all the services for selling, buying, renovating and maintaining your home under one roof, EspaceProprio answers your questions and connects you with the services you need.
Discover the companies of the EspaceProprio ecosystem.
EspaceProprio is an initiative of Desjardins, bringing together a group of companies that offer support services related to home ownership. These services range from buying and selling real estate to renovating and maintaining your living space.
This ecosystem offers an end-to-end, personalized experience that simplifies the management of your home, whether through its advisory service, websites, or apps.


Do you have a burning desire to complete a major project that will utterly transform your basement or kitchen? Do you want to carry out a commercial project, like renovating the roof of your condo building or adding a retail space to your restaurant? RenoAssistance connects you with a large network of 53-point Verified Contractors and reliable professionals. 

Enjoy turnkey services for your residential or commercial renovations, indoor or outdoor. The RenoAssistance team will guide you through the completion of your project and provide you with all the support you need.

Now available in all major regions of Quebec (Montreal, Quebec City, Trois-Rivières, Sherbrooke and Gatineau), as well as in Ottawa and the Greater Toronto Area.* 
*Service availability may vary by region.


For 25 years, DuProprio has offered guidance and support to its clients thanks to a team of experienced real estate coaches, advisors, appraisers, and notaries. What's more, DuProprio showcases homes on the most liked real estate site in Quebec*.
Save on commission by selling with the help of DuProprio
Available throughout the province of Quebec.
*According to a Web survey of 1,246 respondents, conducted by Ad Hoc Research from February 12 to 25, 2019.


You can easily find the broker that's right for you for the purchase or sale of a property. The Confia real estate brokerage supports you whether you're buying or selling and connects you with dedicated real estate brokers committed to client satisfaction.

Benefit from professional services and fulfill your grandest real estate dreams with brokers recommended by Confia.
Now available throughout the province of Quebec.
Simplify your life! The EspaceProprio advisory service team gives you the answers you need.​